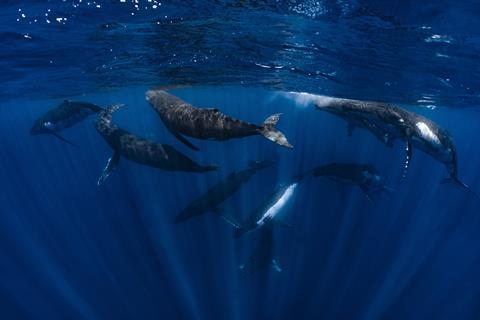 Wild Bunch International (WBI) has boarded sales on Jean-Albert Lievre's upcoming documentary Whale Nation, exploring the barely known world of whales.
The project takes inspiration from UK poet and dramatist Heathcote Williams's 1988 prose work, celebrating the society of whales, with their remarkable abilities of communication and rich and complex social lives.
"The filmmaker has used the text as the basis for a timely film about life in all its diversity, man's place on the planet and the vital need for cooperation between the species that share our planet," says WBI head Vincent Maraval.
Paris-based Bien Sur Productions and Le Collectif 64 are producing the film.
The $4m project will involve a major expedition stopping off in the waters of Sri Lanka, the Mediterranean, Alaska, the Azores, Tahiti, Tonga, Japan and Canada. Shooting will begin in the sea off Mexico's Baja California Peninsula on January 21, and continue through 2021, for a tentative delivery date of February 2022.
The production will use underwater camera operators already living in the shooting locations and equipped with the right kit as much as possible to avoid flying a big crew and material around the world.
Lievre's previous credits include The Titanic Syndrome, co-directed with leading French environmentalist Nicolas Hulot from his best-selling book of the same name, exploring the threat to biodiversity.
Whale Nation is the first big natural history documentary handled by WBI since Luc Jacquet's March Of The Penguins franchise, which achieved a gross of some $130m worldwide.
The company has started introducing the Whale Nation project to buyers during the Unifrance Rendez-Vous With French Cinema which has been taking place online this week from January 13 to 15.