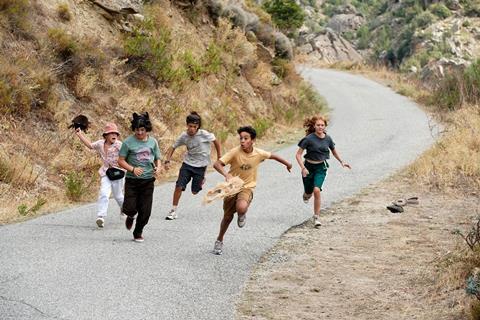 Wild Bunch International (WBI) has unveiled one of its biggest Cannes slates to date as it gears up for its first trip to the Croisette in two years.
As well as 10 Cannes selections (as of June 15), it also features upcoming projects from Palme d'Or winners Jean-Pierre and Luc Dardenne and fellow Cannes laureate Arnaud Desplechin, and the portmanteau work Shining Sex, combining the talents of Lucile Hadzihalilovic, Sion Sono, directorial duo Helene Cattet and Bruno Forzani, Bertrand Mandico and Kleber Mendonça Filho.
Now in pre-production, the Dardenne'sTori And Lokita revolves around a young boy and a teenage girl whose invincible friendship helps them face the trial of living in exile. The Belgian brothers are also producing under the banner of their Liege-based production company Les Films du Fleuve with France's Archipel 35 and Belgium's Savage Film.
The Dardenne's were last in Cannes with Young Ahmed in 2019, for which they won the best director prize, having previously been awarded the Palme d'Or for Rosetta and The Child in 1999 and 2005 respectively.
The company is also starting sales on Desplechin's sibling drama Brother And Sister which reunites the director with Marion Cotillard, who starred in his Cannes 2017 opening film Ismael's Ghosts. Cotillard co-stars opposite Melvil Poupaud as an estranged sister and brother who are brought face to face by the death of their parents.
Also on the slate is Shining Sex which features five poetic visions of sexual ecstasy by filmmakers Hadzihalilovic, Sion Sono, directorial duo Cattet and Forzani, Mandico and Mendonça Filho. The storylines range from a young man who falls in love with a mermaid to lovers who abandon themselves to sensual pleasure in a dance hall in Brazil. UFO and Potemkine have taken French rights.
The company is also launching sales on Dario Argento's thriller Dark Glasses starring Ilenia Pastorelli as a woman who fights back against a serial killer, who causes a car crash that blinds her and wipes out the family of a 10-year-old boy. The film is now in production.
It will also show a first promo reel for Pierre Salvadori's The Little Gang [pictured] about five school friends growing up in a village in Corsica who decide to take action against a factory that is polluting a local river, but the operation does not go to plan. Salvadori's last feature The Trouble With You played in Directors' Fortnight in 2018.
Further new titles include rising Norwegian director Kjertsi Helen Rasmussen horror feature The Nightmare, starring Eili Harboe as a pregnant woman who is plagued by a recurrent dream that she is being attacked by a demon that is trying to enter the world through the vessel of her unborn child. Nordisk Film Distribution has acquired Scandinavian rights.
It will also launch Mexican director Joaquin Del Paso's debut film The Hole In The Fence set against the backdrop of an exclusive summer camp for wealthy Mexican teenagers where they receive physical, moral and religious training aimed at making them the elite of tomorrow. When a hole is found cut in perimeter fence, followed by a series of disturbing events, hysteria within the group starts to rise.
Cannes will also mark the first physical market for Michel Hazanavicius' zombie comedy Final Cut, starring Romain Duris and Bérénice Bejo. The French-language remake of the 2017 cult Japanese hit One Cut Of The Dead shot on the outskirts of Paris this spring and is now in post-production.
The slate also features James Huth's The New Toy co-starring Daniel Auteuil and Jamel Debbouze. A remake of Francis Veber's 1976 comedy The Toy, it revolves around a journalist who becomes the plaything of the son of his newspaper baron boss. Richard Donner's 1982 US remake starring Richard Pryor was a hit at the box office, grossing $47m. This new version is due to start shooting at the end of August.
Festival titles
Wild Bunch is also handling sales for eight Official Selection titles in Cannes including four Palme d'Or contenders – Julia Ducournau's Titane, Nabil Ayouch's Casablanca Beats, Sean Penn's Flag Day and Justin Kurzel's Nitram –as well as Un Certain Regard title Unclenching The Fists by Kira Kovalenko.
It also has Ari Folman's Where Is Anne Frank?, which is playing out of Competition; Gaspar Noé's Vortex and Arnaud Desplechin's Deception, both screening in Cannes Premiere; Wen Shipei's Are You Lonesome Tonight?, which will get a Special Screening; and Yassine Qnia's A Brighter Tomorrow in Directors' Fortnight.