EXCLUSIVE: Growing Dublin-based distributor is inking deals for key local fare as well as sub-licensing for London-based distributors.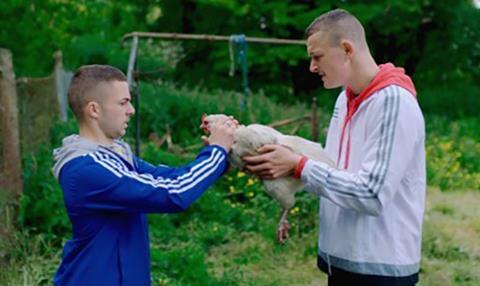 Irish distributor Wildcard Distribution has secured a wide and varied slate of forthcoming releases - including new projects from some of Ireland's strongest emerging filmmakers.
Two crime-themed films, The Young Offenders and Cardboard Gangsters, which have completed production, will have their world premieres at the Galway Film Fleadh in July.
The Young Offenders is inspired by the bizarre case of Ireland's biggest-ever drug seizure in 2007. The haul, off the coast of West Cork, took place after a boat capsized, leaving bales of cocaine floating in the water.
It fired the imagination of first-time feature director Peter Foott, whose film focuses on two Cork city teenagers who embark on a 160km road trip to steal some of the bales. The film will be released in Ireland this autumn.
Also on the company's release slate is Cardboard Gangsters, the new film from director Mark O'Connor (King Of The Travellers). The film, co-written by and starring John Connors, centres on a criminal gang wrestling to take control of the drugs trade in a working-class suburb of Dublin.
Wildcard will also release Bobby Sands: 66 Days, a cinematic portrait of the Irish republican's 66-day hunger strike that made world headlines 35 years ago. The film will screen in competition at Sheffield Doc/Fest.
Brian O'Malley's forthcoming horror film The Lodgers, which is currently in pre-production, is also on the slate.
Meanwhile, Patrick O'Neill's Dublin-based outfit, which launched three years ago, has inked distribution deals on several upcoming projects from some of Ireland's best-known young filmmakers.
Rebecca Daly will follow her Sundance-screened Mammal with Good Favour. It tells the story of a remote Christian community experiencing a crisis of faith, who find hope in the arrival of a mysterious young man.
Wildcard will release Black 47, the new feature from Lance Daly (Life's A Breeze, Kisses), a tale of revenge and redemption set against the backdrop of the Great Irish Famine; meanwhile Morgan Bushe's forthcoming feature, Belly Of The Whale, is also on the slate.
The latter is a drama set in an Irish seaside town, it tells the story of a feral youngster's efforts to reopen his family's rundown caravan park. He crosses paths with an older man with debt problems, and the two form an unlikely bond and an audacious plan.
"I am thrilled to be working on such a diverse and high quality slate of Irish films, with a mix of established and emerging talent, and look forward to bringing them to audiences in the coming years," said O'Neill.
"It's such an exciting time for Irish film with many proving a success at the domestic and international box office, and Irish films, cast, and crew recognised at the highest level. As well as distribution of Irish films, Wildcard has developed a strong business working on behalf of UK distributors, to provide fully localised campaigns in the territory, and this is an area we hope to develop further in the coming years."
The company is partnering with UK distributors for Irish releases on several titles, including Whit Stilman's Dublin-filmed Jane Austen adaptation Love & Friendship (for Curzon Artificial Eye) and Jeremy Saulnier's gritty horror/thriller Green Room (for Altitude).