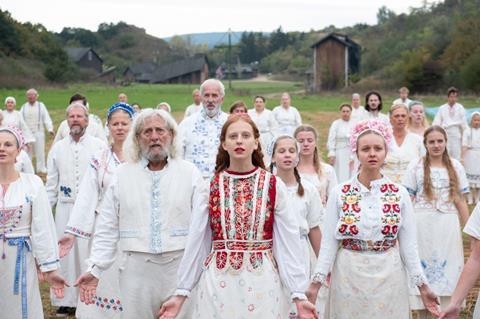 Early box office reports for A24's horror film Midsommar starring Florence Pugh could be just what the US independent sector needs after a rocky ride in the first half of 2019.
Ari Aster's follow-up to Sundance 2018 sensation Hereditary is forecast to gross around $13m this weekend and could not come soon enough. It opened on Wednesday on $3m and climbed to $4.4m on Thursday on a reported $10m marketing spend, promising at least temporary respite for a gloomy independent sector reeling from a string of disappointing releases.
Glorious festival runs have not translated into commercial success so far this year. Exhibit A is Late Night, Nisha Ganatra's comedy drama starring Emma Thompson as a monstrously aloof host of an ailing TV talk show and Mindy Kaling as the newbie writer who could save the day.
This was one of the five films Amazon Studios snapped up at Sundance in a $47m shopping spree that new head of movies Jennifer Salke – a veteran TV executive with lots to prove – wanted to be her calling card. Late Night was set to launch wide before it got pulled back to a platform release and did extremely well, opening in the June 7-9 session on a superb $61,576 average from four sites.
However the result flattered to deceive, and Amazon Studios made the mistake of expanding into 2,200 theatres in the second weekend. Audience demand on that scale was not there. Since then Late Night has mustered $13.2m in four weekends and may struggle to reach $20m – a heavy loss when the $13m acquisition price tag is added to a reported $33m in marketing spend.
This and other films from Amazon Studios feed into the broader strategy of keeping parent company and retail behemoth Amazon's Prime customers happy. Salke is experimenting with more direct-to-service releases, so while the losses are not catastrophic, it is nonetheless significant that head of marketing and distribution Bob Berney left the company days later.
Festival disappointments
Theatrical releases are notoriously hard in an age when a vast array of entertainment choices means audiences are pickier than ever. That makes it even harder for sleep-deprived buyers at festivals to gauge how cinema-goers will receive a film many months later, usually at the end of a working week when they are being asked to weigh up a night in front of their large-screen TV against a night at the cinema. The latter plus dinner for two and parking could easily cost upwards of $100.
After Jessie Buckley's breakout performance in Wild Rose got tongues wagging in Toronto last year, there were high hopes for Fable Pictures' Glasgow-set music drama directed by Tom Harper. Yet so far the film has managed only a so-so $127,147 through Neon since opening on June 21.
Asghar Farhadi's Cannes 2018 selection Everybody Knows opened in February and earned a middling $2.7m through Focus Features, while A24 released Gaspar Noe's Climax — another world premiere on the Croisette last year — in March and it has taken $817,339.
More impressive is Frant Gwo's Chinese sci-fi The Wandering Earth, the second biggest film of all time in China behind Wolf Warrior 2. It has grossed $5.9m in North America since it opened in February via CMC. Sebastian Lelio's Gloria Bell, a remake of the Chilean auteur's Gloria, premiered in Toronto last year starring Julianne Moore as a spirited middle-aged woman and grossed $5.6m via A24 after its February debut.
In March, Focus got Sundance dramaThe Mustang, starring Matthias Schoenaerts, to $5m. Hotel Mumbai, Anthony Maras' Australian thriller based on true events and a Toronto 2018 world premiere, has earned $9.7m through Bleecker Street.
However Sunset, Hungarian auteur László Nemes' Venice 2018 Fipresci winner and his first film after 2016 best international feature film Oscar winner Son Of Saul, took just $164,906 through Sony Pictures Classics, roughly one-tenth of what Son Of Saul earned in 2016 through the same distributor.
Despite a notable $24,835 per-theatre debut in April for the sci-fi High Life, Claire Denis' Toronto 2018 premiere and first foray into an English-language production finished on $1.2m seven weekends later. April was a cruel month for Mike Leigh, whose historical drama Peterloo took $151,971, while in May, Joanna Hogg's Sundance sensationThe Souvenir averaged $19,600 in the first session, en route to a decent $960,873.
Documentaries offer hope
While the shifting landscapes make it harder to hit the bulls eye, documentaries have been bucking the trend. In March Neon released space race film Apollo 11 and has taken the Sundance world premiere to $8.9m. The same distributor has shepherded the much-fancied The Biggest Little Farm to an impressive $3.6m since it opened on a $22,098 average in May. Meanwhile CBS Films has reported $2.5m and counting on Pavarotti. All three are potential Oscar contenders.
Looking ahead, Lulu Wang's Sundance favourite The Farewell opens on July 12 through A24; Jennifer Kent's acclaimed drama The Nightingale arrives via IFC in August; and After The Wedding, Bart Freundlich's Sundance selection and remake of Susanne Bier's Danish drama of the same name, stars Michelle Williams and Julianne Moore and opens through Sony Pictures Classics in August.