AUGUST 14 UPDATE: Annabelle: Creation is top Hollywood release on $35m. Meanwhile, Dunkirk crosses $200m international mark.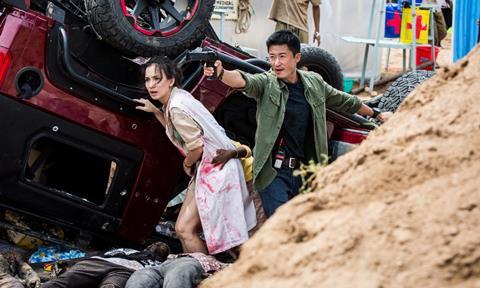 Chinese action film Wolf Warriors 2 is now the first non-Hollywood film to enter the top 100 box office films of all time, The H Collective announced on Sunday.
The film grossed an estimated $83.6m over the weekend, extending its reign as the top international release into its third week.
Jing Wu's film now stands at $687.5m worldwide and last week became the highest grossing film of all time in China. The film broke the $504m record previously set by Stephen Chow's The Mermaid in 2016.
Wolf Warriors 2 centres on a special forces operative who is pulled back into service when mercenaries terrorise nearby villagers. Jing Wu, Frank Grillo and Celina Jade star in the action tentpole.
The H Collective holds North American and South American rights on the sequel to the 2015 film that grossed $80m in China.
WARNER BROS PICTURES INTERNATIONAL
UPDATED: Annabelle: Creation conjured up an outstanding $35.4m from 6,935 screens in 39 international markets. The running international total is now $37.1m.
Annabelle: Creation's opening weekend surpasses that of The Conjuring and Annabelle, and is the highest opening weekend in the Conjuring universe in 26 markets.
Asia is the dominate region with an estimated $18.7m, ranking number one in seven of the eight opening markets and representing 53% of international box office.
South Korea generated $6.7m from 947 screens and ranks as the top foreign film in the market behind two local films. The results there surpasses the lifetime total of Annabelle.
Indonesia produced $3.9m on 738 screens, ranking a dominant number one and coming in ahead of all the films in the Conjuring universe.
France generated $2.8m from 262 screens, maintaining the highest per screen average by far of all films in release. These results are 37% ahead of The Conjuring and just shy of Annabelle.
Meanwhile, David F Sandberg's film grossed $2.6m in the UK and ranks number two. The horror debuted in Russia on $2.3m to rank number two in the market.
Malaysia generated $2.2m in week one, beating out all films in the Conjuring universe to post the biggest opening for a horror film ever. Australia produced $1.8m from 231 screens and ranked a clear number one. The opening weekend results are 28% ahead of The Conjuring and 21% ahead of Annabelle.
Scandinavian markets generated $2.1m, ranking number one in each market. Additionally, Annabelle: Creation was the biggest opening ever for a horror film in Sweden.
In its second weekend of release, Italy produced $625,000 on 296 screens, holding well with a 45% drop and ranking number two for $2.4m to date.
The film opens in most Latin American markets this week, including Brazil and Mexico.
Christopher Nolan's Dunkirk grossed a further $14.8m from 6,785 screens in 62 markets, representing a holdover drop of 41%. The Second World War drama stands at $210.5m internationally and $363.7m worldwide.
The film's top grossing market, the UK, produced $3.4m for $58.4m. Australia dropped 36% from last weekend to generate $1.4m for $15m, while France dropped just 25%, producing $1.4m for $14.9m to date. Germany produced $992,000 for $5.8m, representing an 18% drop from last weekend.
Dunkirk added another $1.7m from 227 IMAX screens, lifting its worldwide IMAX total to $62m.
FOX INTERNATIONAL
UPDATED: Retaining the number one position in eight markets, War For The Planet Of The Apes grossed $17m in 53 markets for $176.3m. The film generated $4.3m for $13.6m in France, while Germany dropped 24% from last weekend to produce $2m for $6.1m. Brazil produced $2.7m for $8.2m. The film debuts in South Korea this week.
Captain Underpants: The First Epic Movie added $1.9m from 10 markets for $21.3m internationally. Mexico and Peru started their market runs on $931,000 and $242,000, respectively. The animation debuts in six markets this week, including Argentina and Colombia.
UNIVERSAL PICTURES INTERNATIONAL
UPDATED: Illumination's Despicable Me 3 grossed $15.1m in 64 territories this weekend for a total of $673.3m. With $247.7m from North America, the worldwide total is $921.1m.
Despicable Me 3 is now the sixth-highest-grossing animated film of all time at the international box office. In Japan, Despicable Me 3 held second place in its fourth weekend, grossing $3.7m for $38.7m.
Germany produced $2.1m in its sixth weekend for $38.1m. Also in week six, France produced $1.5m for a total of $36.1m, while South Korea held at number four in its third weekend, generating $1.4m for $19.6m to date.
Elsewhere, the UK generated $964,000 for $54.7m. China is the top market on $151m, Brazil has produced $38.3m, Mexico $34.7m, Russia $25.4m, and Australia $24.8m. The animation opens in Italy this week.
Atomic Blonde added $5.1m in 36 territories from Universal and Sierra/Affinity this weekend, for an international total of $18.8m. The worldwide total is $61.5m.
Universal territories generated $3.9m over the weekend for a total of $6.4m, while Sierra/Affinity territories produced $1.2m for $12.4m.
The UK produced $2.2m to come in third place. Atomic Blonde opened in line with Bridge Of Spies and just above The Accountant. The Netherlands generated $676,000, surpassing Bridge Of Spies and Jack Reacher, and was in line with Wanted, Kingsman and The Equalizer.
Colombia produced $202,000, while Australia held at number five in its second weekend, producing $711,000 for a total of $2.9m. Universal has 13 more territories to open over the next month. This weekend, the film open in France, Italy, Belgium and Switzerland.
The Mummy added $1.1m in 47 territories for a total of $325.3m. When combined with North America's $80.1m, the worldwide total is $405.4m. Japan produced $940,000 for a total of $10.5m to date. China remains the top market on $91.5m.
Girls Trip grossed $1.3m for $8.4m and stands at $105.6m worldwide. The UK generated $946,000 for $7.2m, while South Africa held at number one in week two on $151,000 for $513,000.
The Beguiled added $272,000 over the weekend for $5.3m. The film stands at $15.9m worldwide. Brazil generated $172,000 in its first week, which is the biggest opening weekend for a Sofia Coppola film there. The film opens in Spain and Egypt this week.
SONY PICTURES RELEASING INTERNATIONAL
The Emoji Movie grossed $14.1m this weekend from 42 markets, bringing the international sum to $33.6m. With summer holidays in full swing, the film continues to perform well across Europe, which was down just 23% as a region.
Spain generated $1.4m from 516 screens for first place in week one, beating The Peanuts Movie by 21%. The Netherlands generated $1m, including previews, which is four times bigger than the opening of The Peanuts Movie. Russia is the next market to release on August 17.
Spider-Man: Homecoming added $12.4m over the weekend for $395.6m. Tom Holland's web-slinger debuted in Japan in first place on $7.1m. Also in Japan, Spider-Man: Homecoming earned $770,000 from 28 IMAX screens.
Expanding its rollout into Europe this weekend, The Dark Tower grossed $7.9m from more than 5,400 screens in 35 total markets. The Stephen King adaptation stands at $19.3m Internationally. Germany led the pack on $1.5m, France delivered $1.2m, including previews, while Italy generated $885,000 from 347 screens. The film opens in The UK, Australia and Spain this week.
Baby Driver added $6m from 47 total markets for $66.7m. Top market Mexico generated $1.7m from 878 screens. Europe saw an aggregate drop of just 31%, including just 3% in Germany and 24% in Belgium. Japan is next to release on August 19.
WALT DISNEY STUDIOS MOTION PICTURES INTERNATIONAL
UPDATED: Cars 3 has amassed $150.9m after grossing $6.5m from 28 territories over the weekend. The animation posted strong holds in Switzerland, where it dropped 18% from last weekend. The Netherlands saw an impressive 1% drop, while Japan dipped 16% from last weekend. Belgium and France box office dropped 19% and 36%, respectively.
In Vietnam, opening weekend has already exceeded the entire run of Cars and Up. Mexico is the top market on $15.6m followed by Japan on $13.4m. China is the next market to release on August 25.
Pirates Of The Caribbean 5 added $1.8m for a running international total of $614.6m. The tentpole posted strong holds in Germany and Switzerland, where it dropped 4% and 10%, respectively. The Netherlands saw an 11% drop from last weekend, while Belgium box office dipped 21%.
In Japan, Pirates Of The Caribbean 5 added another $1.1m in its seventh weekend of release, dropping by 7% from last weekend and taking the running total there to $54.8m.
PARAMOUNT PICTURES INTERNATIONAL
Transformers: The Last Knight grossed $3.7m in 39 markets, bringing the international total to $464m. Japan generated $1.3m from 335 locations for a total of $8.7m after 10 days of release. Brazil produced $545,000 in its fourth weekend for $13m, while Spain generated $415,000 from 336 locations for a running market total of $2.7m.
Baywatch grossed $527,000 from 22 markets for $118.5m internationally.
The documentary An Inconvenient Sequel: Truth To Power opened in Australia on $135,000 at 71 locations. Al Gore's sequel debuts in the UK this week.