Women filmmakers were the big winners at the 60th edition of DOK Leipzig (Oct 30 - Nov 5), which came to a close with a gala ceremony at the weekend.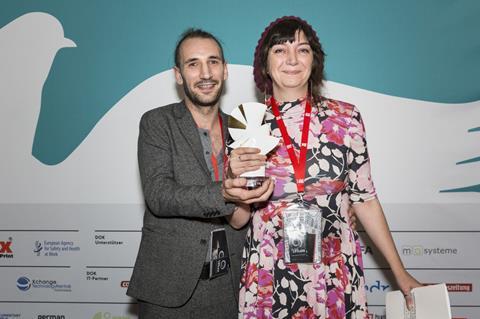 A total of five out of seven Golden Doves (the event's awards) were collected by female filmmakers, with a sixth winning film co-directed by a woman.
The Golden Dove in the International Competition for documentary and animated films went to the Romanian-born filmmaker/photo-journalist Ana Dumitrescu for Licu, A Romanian Story about a 92-year-old man sharing his memories of war, expulsions and post-communism.
South Korean Boram Kim won the Golden Dove in the Next Masters Competition for her portrait of a district of Seoul in Baek-gu, and 20-year-old Norwegian filmmaker Maja Arnekleiv received the Golden Dove for the Best Animated Documentary Film for her debut Mum's Hair.
In the International Competition Short Documentary and Animated Film, the Portuguese filmmaker Mónica Martins Nunes won the Golden Dove for best short documentary for The Ashes Remain Warm which could qualify her to compete for the Documentary Short Subject Oscar if her film fulfills the Academy's formal criteria, and the Golden Dove for the best German short documentary and animated film in the German Competition went to the debut Mega Trick by Berlin-based animator Anne Isensee.
"I was particularly impressed by the many talented emerging filmmakers that we discovered this year," DOK Leipzig's festival director Leena Pasanen said. "The winner in the German Competition for long documentary and animated films [Muhi – Generally Temporary" by Rina Castelnuovo-Hollander and Tamir Elterman] shows how productive central Germany is in the media landscape.
Speaking at the opening ceremony, Pasanen had noted that the festival has had "a relatively constant presence of female directors in our international competition". However, there have been "significant fluctuations" in the German competition over recent years.
"This year, there is only one female filmmaker and she is a co-director [Rina Castelnuovo-Hollander]", she pointed out, adding that "the whole German film sector has structural problems in this regard. We are aware that we are part of the problem and want to help to abolish the imbalance. So for the next two years, we are going to introduce a quota for female filmmakers in the German competition."
Around 1,800 film professionals attended the DOK Industry programme of events including the Co-Pro Market, DOK Previews as well as a new initiative this year – the DOK Short'n'Sweet, where directors such as Georgia's Salomé Jashi and LA-based documentary filmmaker Chris Ward pitched short film projects to a panel of experts including Lindsay Crouse (NY Times Op-Docs), Maike Mia Höhne (Berlinale Shorts) and Georg Gruber (Magnetfilm).