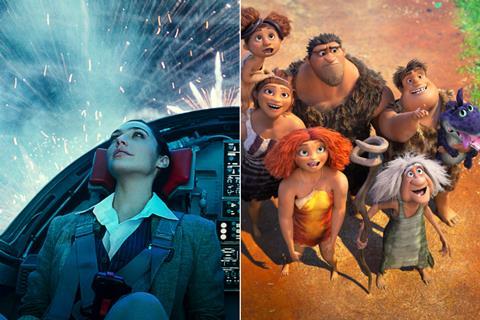 Wonder Woman 1984 tops most markets in debut frame
Wonder Woman 1984 began its rollout with a mixed picture of success, underwhelming in China with an $18.8m debut session, but dominating other markets including Mexico and Brazil. In total, the film landed in 32 international territories, grossing an estimated $38.5m. IMAX screens delivered $5m of this tally, representing 13% of the take.
In China, the Warner Bros/DC sequel landed behind local title The Rescue. The original Wonder Woman debuted with $37.5m in June 2017, on its way to a $90.5m total. Wonder Woman 1984 has begun with just over half the earlier film's opening number.
Taiwan was a different story, where Wonder Woman 1984 earned its second-best number (after China): $3.6m and an 80% market share. It was a similar story in the film's third-strongest market, Thailand, where it launched to $2.0m and close to 80% market share.
Next in the league table of markets for the film comes Brazil ($1.7m and a 90% market share), Japan ($1.6m but behind local titles), Mexico ($1.6m, the biggest debut for a film in the pandemic era, beating The Croods: A New Age, The Witches and Tenet), and Singapore ($1.3m and nearly 90% market share).
The UK and Ireland, with $1.2m, ranks only eighth in Wonder Woman 1984's table of territories. The escalation of London and other parts of England through the tier hierarchy in advance of the film's release will have impacted box office numbers. Ireland, where cinemas are permitted to open, contributed 34% of the total for the combined territory. (Wonder Woman 1984 will be available via premium video-on-demand in UK for a 48-hour window beginning January 13.)
The UK number was nevertheless ahead of the only other major European territory where cinemas are open, Spain, which began with $1.1m. (Cinemas in France, Germany and Italy are closed.) United Arab Emirates and Saudi Arabia both launched with $1.0m – that number is 22% ahead of Tenet in the former territory, but behind Tenet in the latter.
The sequel's opening tally of $38.5m from 32 markets compares with the original Wonder Woman's international opening salvo of $122.5m from 55 territories (plus $100.5m in North America). Wonder Woman 1984 is set to arrive in US cinemas on Christmas Day. The coming weekend sees the film land in nine new markets including South Korea and Australia.
The Croods: A New Age adds $3.2m in international markets
A lack of fresh new openings and competition from Wonder Woman 1984 saw The Croods: A New Age take a tumble in international markets, with an estimated weekend tally of $3.2m, down from $8.3m for the previous session.
The international total for Universal's release of the Dreamworks Animation sequel is now an estimated $57.5m, with the domestic tally of $27.0m taking the global gross to $84.5m.
China was once again the top territory for The Croods: A New Age, adding another $2.5m at the weekend, while Mexico, in its second session, added an estimated $334,000.
The film should receive a boost this weekend thanks to fresh openings in Spain (December 23), Russia (December 24) and Australia (December 26). Many key markets – including Brazil, France, Germany, UK, Italy, South Korea and Japan – are yet to release, with many release dates awaiting confirmation.
In 2013, The Croods grossed $187m domestically and $400m internationally (via 20th Century Fox) for a $587m worldwide total.
The War With Grandpa returns to top of Australia box office
For the second weekend in a row, two titles vied for the top spot of the Australian box office: Universal's The War With Grandpa and Warner Bros' The Witches. The previous weekend had seen the Robert Zemeckis supernatural fantasy knock the family comedy off the top spot. Now The War With Grandpa has reclaimed its box office crown.
Starring Robert De Niro as a man who battles with the grandson he displaced from his bedroom, The War With Grandpa grossed Aus$879,000 ($662,000) in its third session, a decline of 19%, bringing its total to Aus$4.12m ($3.10m).
Roald Dahl adaptation The Witches pulled in Aus$819,00 ($617,000) in its second frame, a decline of 28%, taking the total to Aus $3.01m ($2.27m).
Both films resisted the challenge of Warner Bros' Melissa McCarthy comedy Superintelligence, which debuted in third place with Aus$429,000 ($323,000). Tenet and Happiest Season round out the top five.
Overall, Australia box office had hit Aus$367m ($243m) for the year to mid-December, according to the latest "Road To Recovery" report from forecasting service Gower Street Analytics. That is 68% down on the three-year average of 2017-2018-2019 for the same period. That's a better outcome than has been achieved in the UK, where box office is 74% down on the three-year average for the same period, but just a little worse than France (66% down) and Germany (65% down).