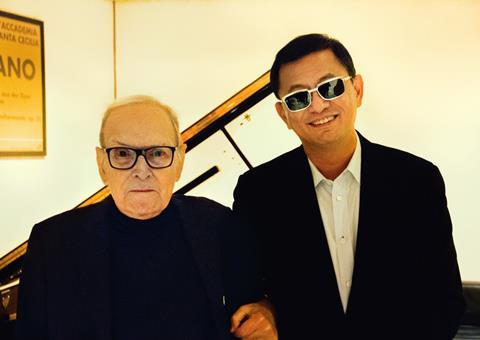 Block 2 Distribution, the sales arm of Wong Kar Wai's Jet Tone Films, is handling international sales on Giuseppe Tornatore's documentary, Ennio: The Maestro, about composer Ennio Morricone.
Wong Kar Wai was also a producer film, along with Peter De Maegd and San Fu Maltha, with Gianni Russo and Gabriele Costa as both producers and executive producers. Block 2 has worldwide rights outside of several territories that were pre-sold or set up as co-production territories and will commence sales at the European Film Market (EFM) in Berlin.
Currently in post-production for a 2020 release, the documentary marks the 13th collaboration between Morricone and his long-time friend Tornatore, for whom he has scored most of his films, including Cinema Paradiso.
In addition to interviews with filmmakers and musicians, including Wong, Bernardo Bertolucci, Quentin Tarantino, Clint Eastwood and Bruce Springsteen, the film features fragments of Morricone's private life, recordings from his concert tours, clips of films he has scored and never-before-seen archival footage.
"I intend for this documentary to display Ennio Morricone's story for audiences worldwide that love his music, and at the same time, through the use of clips from the films he scored, this extraordinary existential and artistic parable of one of the most cherished musicians of the 20th century will enthrall all viewers," said Tornatore.
In addition to Tornotore's works, Morricone scored all of Sergio Leone's films since A Fistful Of Dollars, Gillo Pontecorvo's The Battle Of Algiers, Bernardo Bertolucci's 1900, Roland Joffè's The Mission, Terrence Malick's Days Of Heaven and Brian de Palma's The Untouchables. He has also sold more than 70 million records worldwide.
In 2016, Morricone received his first Academy Award for his score to Quentin Tarantino's The Hateful Eight (2015). He is also the recipient of a further Academy Honorary Oscar, along with three Grammy Awards, three Golden Globes, six BAFTAs, ten David di Donatello awards, two European Film Awards and other prizes.
Ennio: The Maestro is produced by Piano B produzioni, with Potemkino, Terras, Japan's Gaga and Blossoms Island Pictures as co-producers. Block 2's sales execs Mireille Van Helm and Antonio Salas will be based at the Mandala Hotel during EFM.