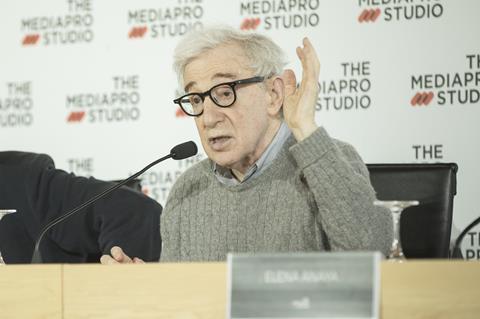 Woody Allen has confirmed his 50th feature in the works, and will be shot in Paris later this year.
Allen revealed plans to shoot the film during an Instagram Live chat with Alec Baldwin, which he says he is gearing up to begin production on at the end of summer, or early autumn.
The Blue Jasmine and Vicky Cristina Barcelona filmmaker's last project was the 2020 San Sebastian premiere, Rifkin's Festival, set during the San Sebastian Film Festival, which was produced and backed by Barcelona-based MediaPro.
It received a limited theatrical release and was distributed largely on digital platforms owing to the pandemic.
Allen bemoaned the rise in streaming platforms: "A lot of the thrill has gone – it [streaming] doesn't have the whole cinema effect. When I started, I'd do a film and it would go to a movie house, people would come by the hundreds to watch it. Now, you do a movie and you get a couple of weeks in a movie house and it goes right to streaming."
He admitted he doesn't watch streaming TV, saying: "I don't have the time."
Controversy surrounds Allen following allegations of abuse by his daughter, Dylan Farrow, as explored in a 2021 HBO documentary Allen v. Farrow. Allen has denied the allegations.
In an Instagram post from yesterday (June 27) announcing his interview with Allen, Baldwin wrote: "Let me preface this by stating that I have ZERO INTEREST in anyone's judgments and sanctimonious posts here. I am OBVIOUSLY someone who has my own set of beliefs and COULD NOT CARE LESS about anyone else's speculation. If you believe that a trial should be conducted by way of an HBO documentary, that's your issue."
Baldwin has been caught up in his own swirl of controversy, over the shooting of cinematographer Halyna Hutchins on the New Mexico set of Rust, produced by and starring Baldwin.
Comments were disabled for the duration of the Instagram Live.
Allen has previously shot Love And Death, Everyone Says I Love You, Midnight In Paris and Magic In The Moonlight In France.