Fifty Shades Darker nears $250 mark, XXX: Return Of Xander Cage eyes $300m.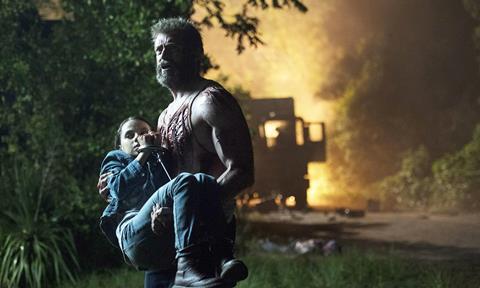 Fox International executives have high expectations for Hugh Jackman's final outing as Wolverine, which opens in a slew of territories including China, the UK, France, Germany and Russia.
Logan also marks Patrick Stewart's final performance as Professor Charles Xavier.
Horror A Cure For Wellness stands at $9.7m as it enters its third session. Former Oscar nominee Hidden Figures has amassed $31.3m and was the highest grossing best picture nominee in North America by last Sunday's Academy Awards. There are no new debuts.
Assassin's Creed will open in Japan over the weekend. Miss Peregrine's Home For Peculiar Children has reached $208m, while DreamWorks Animations' Trolls enters the weekend on $189.3m.
Gurinder Chadha's historical drama Viceroy's House, which had its world premiere at the Berlinale and stars Gillian Anderson and Michael Gambon, will open in the UK this weekend.
Universal Pictures International's box office heavyweight Fifty Shades Darker has added $30.7m since last weekend to push it to $234.8m as it heads into its fourth session.
Illumination Entertainment's animation Sing has reached $286.2m as it prepares to open in Russia.
Legendary's historical fantasy The Great Wall starring Matt Damon stands at $102.1m internationally, while the family offering A Dog's Purpose stands at $15.9m as it opens in three Universal territories this weekend.
Paramount Pictures International's Vin Diesel action film XXX: Return Of Xander Cage stands at $289.8m heading into the weekend with no new openings.
Horror reboot Rings has grossed $49.4m, while Second World War spy thriller Allied has taken $78.8m. Also from Paramount Pictures International, the family-friendly offering Monster Trucks enters the weekend on $30m.
Warner Brothers Pictures International's animation The Lego Batman Movie stands at $97.7m as it heads into China, while Ice Cube starrer Fist Fight stands at $5m and opens in the UK. Collateral Beauty staring Will Smith stands at $54.9m.
Disney's animated film Moana has grossed $337.1m, while Doctor Strange has generated $444.5m, and Rogue One: A Star Wars Story stands on $523.5m with all territories opened.
Lionsgate International's La La Land – a winner of six Oscars last weekend – has reached $228m internationally and $369m worldwide. The Ryan Gosling and Emma Stone musical has opened in all its markets.
Keanu Reeves action film John Wick 2 stands at $50.6m, with no new openings this weekend. The next major market is Italy on March 16.