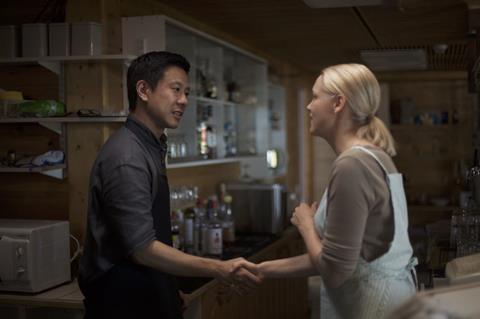 The Yellow Affair has boarded international sales for Mika Kaurismaki's new film Master Cheng, and will discuss the film with buyers in Toronto.
Kaurismaki has wrapped the Finnish portion of the shoot for Master Cheng, which he also produces for his own Marianna Films. The co-production companies are Huang Yaqui's QianJi Culture Co. Ltd (China) and Iain Brown's BY Media (China/UK).
The film shot July 16 to Aug 23 in Finnish Lapland, including Raattama, Kittilä, Muonio, Ylläs and Sodankylä. In October, it will shoot for two days in Hangzhou, China.
The cast features Chu Pak Hong, Anna-Maija Tuokko, Lucas Hsuan, Kari Väänänen and Vesa-Matti Loiri
Kaurismaki directs from a screenplay by Hannu Oravisto. The story is about a professional cook from China who travels to a remote Finnish village with his young son, to reconnect with a friend he once met in Shanghai. He can't find the friend, but he does make contact with the locals after he starts cooking Chinese food for them. The locals bond together to help him when his visa is about to expire.
Backers are The Finnish Film Foundation, YLE, The Nordic Film & TV Fond, SF Studios, and Finland's Tekes cash rebate.
The film has a budget of under €3m.
The Yellow Affair also sold Mika Kaurismaki's last fiction film, 2015's The Girl King.
Steven Bestwick, head of sales & business development at The Yellow Affair added, "We are very pleased to be working with Mika Kaurismaki again on Master Cheng. Mika's films are always full of great characters and good humour and Master Cheng is no different but at its centre is the wonderful story of how food can bridge the gap between cultures and bring together a small town in celebration of community, friendship and romance. We look forward to discussing Master Cheng with our international distributors at the upcoming markets."
Bringing cultures together
Screenwriter Oravisto had the original idea to tell a story about Chinese traditions and cultures, and Kaurismaki told Screen, "The basic idea sounded interesting and I thought maybe we could do it in Finland somehow."
"I was up in Finnish Lapland in the winter, before Christmas it's low season and usually there is hardly anybody there. But that year there was a huge invasion of Chinese tourists is Lapland, and that's when I decided if I do this film, I will do it in Lapland."
He adds, "The story is very topical – there are thousands of Chinese people coming to Finland, and even Lapland.
"There are so many things about globalisation that are negative, but I wanted to make a simple film about normal, small people meeting in the middle of nowhere, from totally different cultures. I wanted to make a film showing that people are people all around the world."
The food angle was also important. "Like the Chinese say, 'we live to eat we don't eat to live.' It's an important part of their whole lives. Food was a nice way to get these people together."
Chinese restaurants in Lapland and their employees helped him with the film, including making the food that is shot in the film.
The director added, "Having these two cultures during the shoot was a very positive experience, and the food worked as an intermediate between these cultures."