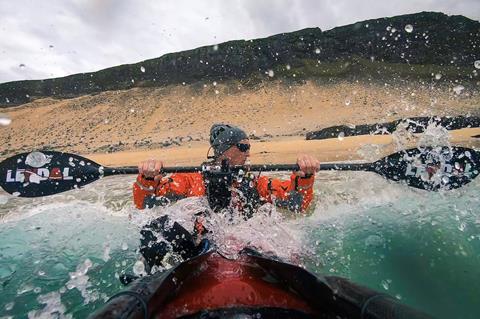 Zeitgeist Films in association with Kino Lorber has acquired North American rights to Icelandic transgender kayaking documentary Against The Current.
Óskar Páll Sveinsson's film will open theatrically on June 25 with a New York run at Quad Cinemas, followed by a digital release on Kino Now and home video.
Against The Current chronicles Veiga Grétarsdóttir's 2,000-kilometre solo kayak expedition counter-clockwise around the rugged Icelandic coastline.
The journey comes as Grétarsdóttir decides at the age of 38 to no longer live as a man and undergo gender reassignment.
Producers Kristin Ólafsdóttir and Pétur Einarsson negotiated the deal with Zeitgeist co-presidents Nancy Gerstman and Emily Russo.
Gerstman and Russo hailed the "extraordinary story of accomplishment and defiance against all odds", adding: "We expect this remarkable story will resonate with the wider LGBTQ community and anyone who finds the thrill in the exploration of the natural world."
The producers added, "The timing is right to share this beautiful Icelandic film with the world coinciding with an increased awareness and fight for trans rights."