Paris-based industry veteran, who also works with actor Amr Waked, deepens ties with Egypt.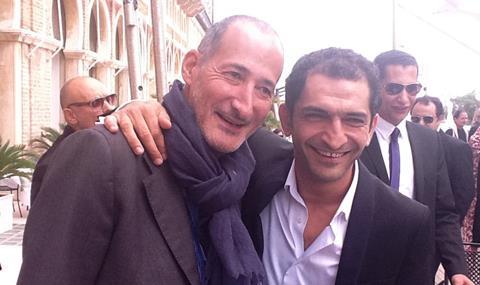 Paris-based producer Daniel Ziskind has signed to act as the European representative of Egyptian Mohamed Hefzy's Cairo-based production house Film Clinic.
Under the accord, Ziskind will support Film Clinic's co-production and sales activities in Europe.
"I'm very happy to join the Film Clinic family," Ziskind said. "The company has a great line-up and strategy."
First feature
The first project under the collaboration will be Mohamed Diab's drama Clash, his second film after the much-praised Cairo 678 tackling sexual harassment through the experiences of women on a bus.
Set against the backdrop of violent demonstrations that erupted at the end of former Egyptian President Mohamed Morsi's Islamist reign in summer of 2013, Clash revolves around two groups of opposing protestors who find themselves trapped in the same police van as fighting rages around them.
"It's a timely film in this strange time that we're living through," said Ziskind.
The feature is a French-Egyptian coproduction involving Film Clinic, French distributor and producer Eric Lagesse's Sampek Productions and Franco-German broadcaster Arte's French film arm, Arte France Cinema. Lagesse's Pyramide International will handle world sales.
Prolific producer
Hefzy is currently one of Egypt's busiest and most internationally-minded producers. Past credits include Ahmad Abdalla's Microphone and Rags and Tatters, Mohamed Khan's Before the Summer Crowds and Emirati filmmaker Ali Mostafa's pan-Arab road movie From A to B.
Ongoing projects on Film Clinic's slate include Abdalla's next feature Black Tea, an adaptation of Lebanese writer Rabee Jaber's 1995 novel, and a the first feature of Sherif El Bendary's Two Rooms And A Parlour, his first feature after a series of critically-acclaimed shorts including Dry Hot Summers.
Ziskind has been working with Egypt for more than a decade, firstly as the European representative of Cairo-based media company Good New Group for five years, during which time he worked on Marwan Hamed's 2006 The Yacoubian Building, selling it to more than 30 territories.
In more recent years, he has been the representative of Egyptian actor Amr Waked and his production company Zad, supporting the sale of its feature Winter of Discontent to Swipe Films and Double Dutch International as well its selection in Venice's Panorama section in 2012.
Ziskind will continue to manage Waked's acting interests in Europe alongside his work with Film Clinic.
Through his ties to Egypt, Ziskind is an active member of MEDIS – a network of distributors and industry professionals operating in North Africa, the Middle East and the Gulf — and is also a member of the French Cinémathèque as well as the European Producers Club.
Prior to going into the business side of the film industry, Ziskind worked as an assistant director on 19 features by directors including Claude Lelouch, Alain Resnais and Yves Robert before moving on to line production and then producing commercials with the likes of Tony Kaye and Joe Pytka.