Dir: Kelly Reichardt. US. 2013. 112mins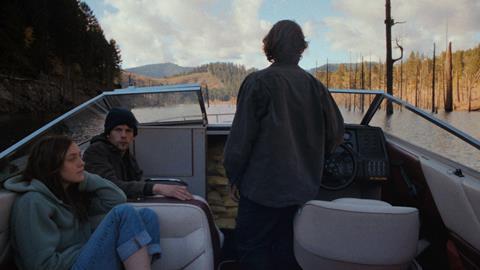 A well sustained, beautifully shot, though rather dour environmental drama-thriller, Night Moves sees Kelly Reichardt veer away from the left-field drama of her earlier films and try her hand – with mixed results – at Hitchcockian thrills (for a brief portion of the film at least), and while the strong indie star cast will help the film's profile it is a film unlikely to break out into the mainstream.
Dakota Fanning is impressive and smart, and has the charisma to carry more of the film.
The expected Kelly Reichardt touches are there – beautifully framed tracking shots, a fascination in nature as a striking backdrop (it is closer to her first film Old Joy in that respect) and a series of serious and determined protagonists – and there is a smart contemporary edge as it dwells on three environmental activists planning to make a grandstanding gesture.
The best part of Night Moves is the slow and careful build up to what this threesome are actually doing and planning, to the degree that the initially well sustained tense drama is edge-of-the-seat stuff, but ends up being unpicked and diminished by a rather simplistic and oddly unconvincing final third as doubts about what they have done emerge and there are dangerous divisions between these green terrorists.
The casting of Jesse Eisenberg, Dakota Fanning and Peter Sarsgaard will help draw attention to the film and help its promotional abilities, and it will likely be a strong seller internationally, but after Meek's Cutoff (also a Venice competitor) expectations were high for Reichardt's next film, and there is a niggling sense that Night Moves fails to deliver on a number of counts.
The film opens intriguingly with Oregon-based Josh (Eisenberg) and Dena (Fanning) spending rather secretive time together – they may be boyfriend/girlfriend, but rarely talk or touch – and seem to be planning a trip together. He works at an organic commune (and lives in a jolly nice yurt) and she appears to have money and seems to work at a New Age venue with spas and saunas. The fact they are not as connected as they first seem is clear when they rack up their 'in love' act when they buy a speedboat (named Night Moves).
They drive on to meet up with Josh's friend Harmon (Sarsgaard), an ex-Marine who has fake IDs for them. Then it is revealed that they are planning to fill the boat with explosives – made from ammonium nitrate fertilizer – and blow up a hydroelectric dam, making a bold and aggressive environmental statement.
With the three together the film hits its strides, especially in a tense scene where Dena has to try and convince a store to let her by the fertilizer. With rising tension they moor the laden boat next to the dam and with nerves on edge they finally manage to make a getaway, with Dena and Josh making their way past a roadblock and back to the fuzzy security of their homes.
If the film had ended with the preparation and the act, it may have been a better and tighter film, but it pushes on for another half hour of recriminations and confusion and spirals to an unconvincing climax that rather undoes the good work that has gone before. There is an 'action' scene of sorts that is poorly staged and lacks the intended chills and heightened sense of drama it badly needs.
Jesse Eisenberg gets the majority of the screen time, but his unsmiling and rather bland character is barely developed and the script – likely deliberately – lacks the nervy wit he tends to display in other films, meaning that his Josh plods through the film, rather than being drive by a sense of environmental injustice. Dakota Fanning is impressive and smart, and has the charisma to carry more of the film, while Peter Sarsgaard is as good as ever in a role that is almost an extended cameo. As expected, Night Moves is beautifully shot and elegantly staged.
Production companies: Matbach Films, RT/Features, Filmscience
International sales: The Match Factory, www.the-match-factory.com
Producers: Neil Kopp. Anish Savjani, Chris Maybach, Saemi Kim, Rodrigo Teixeira
Executive producers: Saefrom Kim, Lourenci Sant' Anna, Alejandro De Leon, Todd Haynes, Larry Fessenden
Screenplay: Jon Raymond, Kelly Reichardt
Cinematography: Christopher Blauvelt
Editor: Kelly Reichardt
Production designer: Elliott Hostetter
Music: Jeff Grace
Main cast: Jesse Eisenberg, Dakota Fanning, Peter Sarsgaard, Alia Shawkat, Logan Miller, Kai Lennox, Katherine Waterston, James Le Gros