Nordisk Film & TV Fond has unveiled the list of Nordic graduation students and their projects running for the $30,000 (NOK250,000) pitch prize and $6,000 (NOK 50,000) special mention prize at Nordic Talents (Aug 31-Sept 2).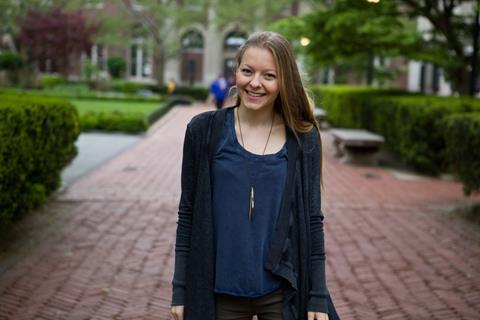 Petri Kemppinen, Nordisk Film & TV Fond CEO, said: "This year we have many projects targeting children and young audiences, and several comedies. The competition to get in was tougher as for the first time we asked applicants to submit a development plan for their project.
"I think this was helpful for both the students and the selection group. It is also interesting to note the 60/40 female representation in the submissions and selection."
In addition to the pitching sessions, Nordic Talents will screen the graduation films of all selected film students.
This year's Nordic Talents jury comprises Norwegian director/writer Sara Johnsen, Danish animation director/comics artist Anders Morgenthaler, Swedish producer Lars Blomgren of Filmlance, Finnish writer/producer Petja Peltomaa of Yellow Film & TV and Kristina Trapp of EAVE.
Projects to be pitched:
Aria, feature film, writer/director Ugla Hauksdóttir [pictured] (Columbia University School of the Arts)
Scenes from a Dying Town, feature film, writer/director/producer Kaisa el Ramly (ELO Helsinki Film School)
Daddy's Girl (feature film), writer/director Julia Lindström and writer Amy Black Ndiaye (Norwegian Film School)
Small, Cute and Hungry (TV series), writer Marta Huglen Revheim, (Norwegian Film School)
Journey (animated feature), director Mads Guldborg Bøge (National Film School of Denmark)
EBBA (feature film), writer/director Johanna Pyykkö and writer Jørgen Færøy Flasnes (Norwegian Film School)
Changeling (TV series), writers Harald Mæle Jr and Kjersti Wøien Håland (Norwegian Film School)
Dagny (animated TV series), director Peter Lopes Andersson (National Film School of Denmark)
World of Lost (animated feature), writer/director Morten Zachariassen, (National Film School of Denmark)
Generation Mars (feature film), director Alexander Turpin (Norwegian Film School)
Deleted Scenes (feature film), writer/director Paula Korva (ELO Helsinki Film School)
When the Sky Falls Down (feature film), director Luise Nes and producer Synne R. Krumins (Westerdals Oslo ACT)
The Animals-A Struggle through Trouble!, animation TV series, director Amalie Næsby (National Film School of Denmark)
Goodbye Soviet Union (feature film), writer/director Lauri Randla (ELO Helsinki Film School)
Sisters (feature film), writer/director Mika Gustafson (Valand Academy, Gothenburg)