Dir/scr: Lars von Trier. Denmark-Germany-France-Belgium. 2013. 110mins (Vol. 1), 130mins (Vol. 2)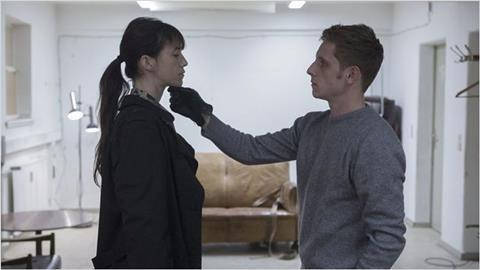 With Nymphomaniac there is no denying that Lars von Trier is pulling no punches. With a certain amount of self-aware glee he sets out to provoke, shock, challenge, amuse and possibly even annoy audiences with his two-part epic Nymphomaniac, a film that revels in its title and subject matter as it blends full-on sexual acts with serious-minded naval-gazing and comes up with a film that will test viewers in many different ways.
Yes it is provocative, funny, smart, wry and challenging (though never sexy) but it is also a remarkable project brimming with bold and often thoughtful performances.
The plentiful use of explicit sex footage, extensive debates on art, religion, music and literature and bountiful full-front shots of course mean that the film is aimed fair-and-square at the art-house community that has embraced his previous films. The film opens in Denmark and other territories on December 25 (Happy Christmas everyone…) and in the US and UK in early 2014. In some territories it will be released as two films on different dates, while in others – frankly the best option to see it – it opens as a hefty two-part film experience.
Given its substantial running time and ambitious storyline it comes as no surprise that Nymphomaniac is a film that shifts in tones at regular intervals (with some sections more satisfying than others) and while it can appear a little scattershot at times it is more than occasionally genuinely laugh-out-loud funny as well as offering up dark and disturbing moments as a counterbalance.
As in his recent few films, von Trier displays his filmmaking skills with a delightfully structured opening sequence – initially in black there is the sound of rain beating on tin roofs, before revealing a bleak wet alleyway where the rain is almost musical in the way it falls. As he walks back from a shop, Seligman (Stellan Skarsgard) finds Joe (Charlotte Gainsbourg) bloody and battered in the alley, and invites her back to his bleakly furnished flat for tea.
She proceeds to tell him the story of her life and in particular her sexual history, opening her story with the comment: "I discovered my cunt at age two." Before long she is describing how the teenage Joe (Stacy Martin), lost her virginity to Jerome (Shia LaBeouf, often very naked through the film) in perfunctory manner, and how she and her best friend competed against each other for the most sexual partners during a train journey…all for a bag of sweets.
The films are subdivided into eight chapters – with some titles more amusing and provocative than others – with Martin featuring as Joe in flashback in the first film, and Gainsbourg taking over for the majority of the second film. Her conversation with Seligman allows von Trier to head off in a variety of cultural, intellectual and philosophical directions with him quick to associate her descriptions with references – ranging from the Fibonacci numbers as a link to how many times she has sex, through to music, art and religion – that either amuse or annoy her.
The revelation that the mild-mannered Seligman is a virgin – he smilingly describes himself as 'asexual' – is given as the reason that he regards all of her revelations with a sense of detached bemusement and always offers an intellectual perspective to her frank sexual descriptions.
Her sexual 'adventures' and interactions are many – with LaBeouf's character the only one who crops up with regularity as she falls in love with him, they have a child together and she loses her ability to orgasm while with him – with some sections funny and ribald and others darkly uncomfortable.
Uma Thurman has a delicious brief role as the wife of one of her myriad of lovers who confronts them at Joe's flat with her three young sons, insisting that the children get to see the "whoring bed", while Christian Slater subtly underplays the important role of her father, showing her the joys of nature as they walk in the woods together. An extended – and rather plodding – scene of him ill in hospital rather undercuts the power of his character, but her recollections of him and her younger years reflect the happiness she once had.
In the second film Gainsbourg pretty much exclusively plays Joe, and it is here that the film heads into darker territory as well as a sideways trip to sex addiction support group. Following the birth of their son she needs to extend her sexual experimentation. These vary from a scene where she engages in a mixed-race three-way with two well-endowed gents (a scene that feels rather contrived as if von Trier is simply trying to press buttons and get a response, especially as she views their unsubtitled debate about how they should take her from the level of their substantial swinging dicks) through to her delve into sadomasochism as she tries to recover her ability to orgasm.
Her scenes as she is bound and thrashed by a gently brutal Jamie Bell are some of the most powerful of the film, with her journey presented with almost clinical detachment as her desperate need to climax again sees her give up everything. To an extent the film can never quite recover its dramatic energy after that sequence – she somehow finds unlikely work as a debt collector for a wealthy man (Willem Dafoe, in a non-sexual sequence) before dabbling with lesbianism with a young girl she is training to take over from her in the extortion business. Even a 'surprise' climax at the end of the film comes as no real shock.
There are moments when the sex is very real and explicit (though obviously nothing that can't be found via some on-line searching) with von Trier clearly trying to push the envelope in terms of clinical on-screen presentation of sexual acts set alongside an often intelligent debate about sex and sexuality.
All of the actors (apart from the two well-endowed three-way chaps) all speak English, often in a very mannered way (though this may simply be the script translation) with the backdrop supposedly British – the currency is pounds, but the old variety, and the cars with English number plates – but certainly not a Britain anyone would recognise. This offbeat backdrop and the film's rather unusual language rhythms help create an off-kilter world where Joe's life of sex is the only thing that really matters.
Because there is so much going on in these two films it is almost impossible to take a broad view of Nymphomaniac. Yes it is provocative, funny, smart, wry and challenging (though never sexy) but it is also a remarkable project brimming with bold and often thoughtful performances. It is Lars von Trier at his best and his most frustrating at the same time (he even pops in a rather self-reverential scene of a small child tottering on a snowy balcony that take audiences back to his Antichrist opening), but is always watchable and intriguing. Longer cuts of the films are due…which should be interesting to say the least.
Production companies: Zentropa Entertainment, Slot Machine, Zentropa Intl., Caviar, Zenbelgie, Arte France Cinema, Film I Vast, Groupe Grand Accord
International sales: TrustNordisk, www.trustnordisk.com
Producer: Louise Vesth
Executive producers: Peter Aalbaek Jensen, Marie Gade Denessen, Peter Garde
Co-producers: Marianne Slot, Bert Hamelinck, Madeleine Ekman
Executive co-producer: Bettina Brokemper.
Cinematography: Manuel Alberto Claro
Editor: Molly Malene Stensgaard
Production designer: Simone Grau Roney
Main cast: Charlotte Gainsbourg, Stellan Skarsgard, Stacy Martin, Shia LaBeouf, Christian Slater, Jamie Bell, Uma Thurman, Willem Dafoe, Mia Goth, Sophie Kennedy Clark, Connie Nielsen, Michael Pas, Jean-Marc Barr, Udo Kier