Dir: Oliver Stone. US. 2010. 131mins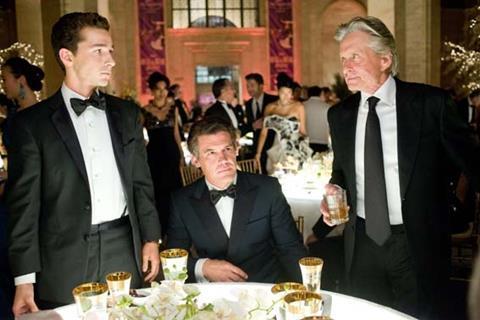 The world financial markets may well be in freefall, but according to Oliver Stone's slickly stylish sequel to his successful financial film Wall Street 'money never sleeps'. Quite what that actually means is never overly clear, but the wheeler-dealer, champagne-guzzling lifestyle of the world's financial whizkids still makes the perfect backdrop for engrossing drama.
Oliver Stone directs with a suitably slick style.
In the original film - made 22 years ago - Michael Douglas was at his charismatic best as Gordon Gekko, the cigar-chomping money mogul who spouted slogans - "greed is good" and "lunch is for wimps" - while making millions before breakfast.
This glossy and well-cast sequel sees Gekko released from prison (he was sent down for insider dealing and a series of other dodgy financial naughtiness) and reinventing himself as an author (his bestseller is unsurprisingly titled Is Greed Good?) and still eyeing opportunities to re-insert himself amongst the big beasts of Wall Street.
The film - screening Out of Competition at Cannes and bringing with it a welcome dose of Hollywood glamour - is likely to be a strong early Fall performer for Twentieth Fox, with the smart balance between Michael Douglas and the original movie

The film opens in 2001 with Gordon Gekko having served his time and released back onto the streets, allowing an early big laugh as he is handed back his massively clunky old-fashioned mobile phone. It may well have featured on the trailer, but it is still a funny scene.
Fast forward eight years and no longer the king of Wall Street, Gekko - longhaired and no longer sporting his signature red braces (blessedly Wall Street fashions have moved on since then) - is touting himself as an author.
Meanwhile his daughter Winnie (Carey Mulligan) is running a campaigning website while her market trader boyfriend Jake Moore (Shia LaBeouf) is making money at venerable Keller Zabel Investments, run by his mentor Louis Zabel (Frank Langella), while also trying to find investment for a green energy project.
When rumours that Keller Zabel is saddled with billions in toxic debt, Bretton James (Josh Brolin), a partner at a rival investment bank, forces pressure onto his rival, with Louis Zabel eventually deciding to take his own life rather than face the collapse of his company.
Jake initially gets to know Gekko in the hope he can re-unite him with Winnie, but after the Zabel collapse he starts to take his advice on how to take revenge on Bretton James. Winnie warns him not to trust Gekko, but Jake is increasingly confident about his abilities to read both people and the markets.
The closer Jake becomes to Gekko the more Winnie gets upset, and as the financial markets start to collapse around them Gekko takes his chance to force his way in amongst the big beasts of the financial world. But he has to decide if will lose all chance of rebuilding a relationship with Winnie in his single-minded pursuit of money.
Michael Douglas slips in and out of the film, offering up more than a few memorable quotes in an attempt to rival the first film for classic lines (we get "getting old is for sissies" and "money is a she - a bitch that never sleeps"), but at heart this film is about the new green-minded generation up against the suit-wearing traders, with Shia LaBeouf mature and confidently impressive as the good-hearted trader.
Douglas knows how to control his screen time and is nicely shark-eyed as conniving and controlling Gekko. Frank Langella is terrific as the charismatic fading banker, while Josh Brolin (who starred as George Bush in Oliver Stone's last film W) is suitably oily but hardly villainous.
Of greater shame is that the delightfully elfin Carey Mulligan is never given enough to do, with Michael Douglas over-powering the handful of scenes she has with him. Her character is a rather bland blog-warrior with a nice line in clothes, but it would have been nice to have seen more feistiness from her.
Oliver Stone directs with a suitably slick style, making great use of his New York locations and not afraid to throw in an obvious linking shot (scenes of kids blowing bubbles in Central Park cues up the bursting of the financial bubble) and also gives himself a couple of cameo scenes. Running well over two hours, Wall Street: Money Never Sleeps lacks a real sense of dramatic urgency, but one can't deny its polish and poise.
Production company Twentieth Century Fox
International Distribution: Twentieth Century Fox
Producers Edward R Pressman, Eric Kopeloff
Screenplay: Allan Loeb & Stephen Schiff, based on characters created by Stanley Weiser & Oliver Stone
Cinematograph:y Rodrigo Prieto
Production designer: Kristi Zea
Editors: Julie Monroe, David Brenner
Music: Craig Armstrong
Website: www.wallstreetmoneyneversleeps.com
Main cast: Michael Douglas, Shia LaBeouf, Josh Brolin, Carey Mulligan, Eli Wallach, Susan Sarandon, Frank Langella