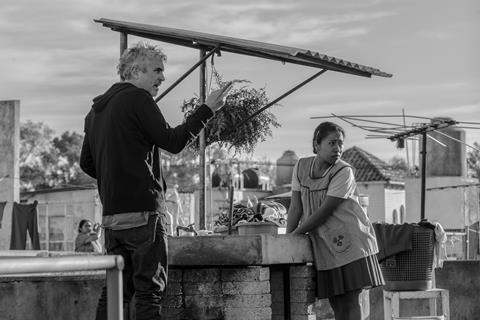 Speaking this weekend at the Zurich Summit (29), Participant Media president Jonathan King explained why Alfonso Cuaron's Golden Lion winning awards season contender Roma is bypassing a conventional theatrical release in favour of going down the Netflix route.
King revealed that Participant, which financed and produced the feature "didn't really tell anyone" that the company was making Roma - and backed the film on spec, without any distribution in place. It screens in Zurich this week.
"Our main focus in the early days was just making sure that we supported Alfonso on the story he wanted to tell," said King. "Then we were talking about what was the best way to be seen by as many films as possible."
Participant has partnerships with several major distributors, among them Universal, eOne, and Nordisk. The company makes four to six narrative features per year alongside its documentaries and TV projects. However, on certain titles (including Roma, this year's best foreign-language Oscar winner The Fantastic Woman, and The Boy Who Harnessed The Wind), Participant "figures out" the best homes for them late in the process.
"We were talking from the beginning about what is the best way to be seen by as many people in the world as possible. It is an Alfonso Cuaron movie. The base line is that there is going to be a big appetite for that movie among cinema lovers," King said, paying tribute to the film's "beauty" and cinematic qualities.
However, he also pointed out that Cuaron shot Roma in black and white, primarily with non-actors or first-time actors. It is Spanish and set in Mexico in the early 1970s.
"In many countries, that is just going to limit the theatrical experience," noted the Participant executive. "The conversation with Netflix was that they would support this huge festival roll-out and a true theatrical experience for people who wanted to see that."
At the same time, Participant was also determined to make the film accessible to Cuaron, who didn't have access to art house theatres. "Part of being relevant is adapting to new methods of distribution and partnerships that make sense," King said in justifying the decision. "It is not right for every movie but in some ways we can try to live together."
Participant is currently on a strong run and won the audience award in Toronto with Peter Farrelly's Green Book, which also screens in Zurich. Asked if the company had ever had a flop that had threatened its existence, King acknowledged that Participant had lost some money on BP oil rig drama Deepwater Horizon starring Mark Wahlberg, adding that the company was structured in such a way that "we can't get destroyed by one movie."
He said: "There has never been a movie which we've been embarrassed by and thought I wish we didn't make that."
King also revealed that Participant's digital entertainment media company and 2016 acquisition SoulPancake founded by actor Rainn Wilson was now beginning to "do some longer-form stuff."
As has been the case for a while, the company does not confine itself to English-language projects. It has been active in Latin America, working not just with Cuaron but with Chilean Pablo Larrain. It also recently shot Chiwetel Ejiofor's The Boy Who Harnessed The Wind in Malawi.
Participant Media was founded by Jeff Skoll in 2004 with a mission to make socially relevant movies. "At the beginning, it felt like a real challenge and sometimes a competitive disadvantage," said King. "We can't make Avengers or whatever, but as the years have gone on, it has in some ways turned into a little bit of a competitive advantage."