Dir: Antoine Blossier. France. 2010. 82mins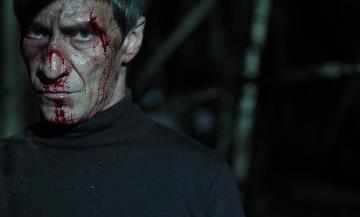 It's payback time for hunted animals in commercial director Antoine Blossier's first feature, the latest in a growing pack of French horror items looking to get their teeth into overseas markets. The film has already scored a big bite, selling to IFC's new horror label IFC Midnight straight after Cannes. But Prey is a much less tasty splatter platter than its most recent Gallic cousin, La Horde.
Prey is good at just one thing: giving our liberal worries about fertilisers and pesticides the visual form of an evil.
Budgetary constraints peek through in every frame – for this is one of those frustrating films that tries to make do rather than rethinking to fit the money available (for example by tightening up the threadbare plot, or replacing expensive CGI effects with some decent psychological tension).
Prey is good at just one thing: giving our liberal worries about fertilisers and pesticides the visual form of an evil, dark French forest full of rotting animal carcasses and miasmic swamps. In this it's a sort of Gallic chasseur equivalent of 1980 US eco-horror yarn Alligator. But that film for all its hokiness had a decent genre script – whereas Prey too often tries to wing it on style alone. Previewing at the Rome Film Festival after a couple of smaller Euro horror festival outings, the film looks more of a DVD or VoD contender than a theatrical prospect in most non-Gallic territories.
Gregoire Colin, the male muse of Claire Denis in Beau Travail and 35 Rhums, plays Nathan, a sensitive young doctor who's in a relationship with pregnant Claire (Bejo). The exposition is so muddy at first that it takes us a while to work out who's who, but we eventually cotton on to the fact that Claire is a chemist at her family's fertiliser factory, which is run by her stressed authoritarian father; a lugubrious grandfather and a pugnacious redneck uncle make up the rest of the merry family group.
When the grandfather is attacked in the tall corn by an unnamed and unseen beast, the men of the family band decide to go a-hunting; at the last minute, incensed by Claire's refusal to leave the family business and her intimation that it's not the right time to have a baby, Nathan decides to join the tight-lipped crew.
There's something nasty in the woods, of course – caused by the toxic double-strength fertiliser that the family has been producing in an attempt to stay competitive. And after the messy prologue, the forest set-up bodes well: three family members with a secret (though it's not much of one) who are riven by mutual mistrust, and one sensitive young city boy who is not one of the family and can't even load a rifle properly.
The problem is that not enough is made of these underscripted conflicts to comb over the baldness of the central horror premise. You can only get away with so much fern rustling and grunting before the audience needs to see a beast, and when the beast comes it's pretty much what you'd expect these guys to be hunting.
Necessary jeopardy-mechanisms – like the decision to leave all the mobile phones back in the cabin except one – are thrown in with a laughable disregard for dramatic logic. But perhaps the most frustrating thing about Blossier's debut is its distracting visual style. Shot on the 2K D-cinema digital platform and edited impressionistically, the film's action sequences are sometimes so confusing as to be almost illegible. Romaric Laurence's driving orchestral soundtrack underlines the tension in the classic tradition of Bernard Hermann – and there are tense moments. But not enough for this nasty nature pic to prey on our minds much beyond its short and sweet running time.
Production companies: Quasar Pictures, Polaris Films
International sales: Rezo Films, www.rezofilms.com
Producers: Olivier Oursel, Jean-Marie Delbary, Marie-Anne Le Metayer-Dijvelekian
Screenplay: Antoine Bloissier, Erich Vogel
Cinematography: Pierre Aim
Production design: Bettina von den Steinen
Editor: Nicolas Sarkissian
Music: Romaric Laurence
Main cast: Gregoire Colin, Francois Levantal, Berenice Bejo, Joseph Malerba, Fred Ulysse, Isabelle Renauld