Dir: David Gordon Green. US. 2012. 94mins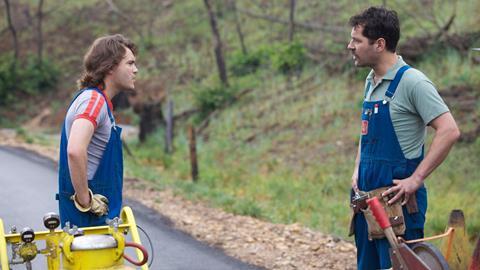 A sad little comedy about some sad little nobodies, Prince Avalanche boasts a genial, freewheeling spirit that has its charms but isn't quite substantial enough to carry a whole feature. Paul Rudd and Emile Hirsch are entertaining playing self-deluded fools working a dead-end job, but while this bittersweet film represents a return to the more heartfelt, personal terrain of writer-director David Gordon Green's early career, Prince Avalanche ends up being sweet yet forgettable — just like its characters.
Rudd and Hirsch have a likeable chemistry, with Hirsch particularly strong playing a handsome, dim guy obsessed with finding his next good time.
Launching in Sundance's Premieres section, Prince Avalanche will lean on the commercial appeal of its two leads to attract buyers. However, this intentionally small-scale, modestly introspective production will be geared toward specialty theatres, as opposed to Green's Hollywood offerings like Pineapple Express or The Sitter.
Based on Icelandic filmmaker Hafsteinn Gunnar Sigurðsson's Either Way, Prince Avalanche is set in Texas in 1988 as Alvin (Rudd) and Lance (Hirsch) go about the tedious process of repainting yellow stripes down the middle of a long stretch of country highway. Alvin has hired Lance because he's the brother of Alvin's girlfriend, but soon it becomes clear that the haughty Alvin and horny Lance aren't a good match for a job that leaves them alone together for days at a time.
Green began his career with sensitive, atmospheric indies like George Washington and All The Real Girls before transitioning to broad mainstream comedies. Prince Avalanche may feel like a conscious reclamation of his indie roots — the movie consists almost entirely of the two men talking — but its skewering of male ego is also in tune with the recent rash of Hollywood bromances, several of which have starred Rudd.
Despite some nice small comic scenes throughout — not to mention a lovely digression concerning a local woman whose house has burned to the ground as part of a Texas wildfire — the film never quite finds a consistently successful comic rhythm. To be sure, this isn't entirely a problem since the movie can ramble pleasantly, but neither character is distinctive enough to make their interactions sparkle.
Consequently, too much of the humour revolves around each man's specific failing. In the case of Alvin, it's that despite his high aspirations for his romantic relationship, including learning German so that they can travel abroad, he isn't nearly as sophisticated as he thinks he is. Meanwhile, Lance is just concerned with getting laid, his lack of smarts a constant target for Alvin. Their dopey odd-couple banter has its moments, but Green's low-key approach tends to mute the proceedings rather than accentuate the unspoken sadness and lack of personal fulfilment both men feel.
Rudd and Hirsch have a likeable chemistry, with Hirsch particularly strong playing a handsome, dim guy obsessed with finding his next good time. As for Rudd, Alvin is very much in his wheelhouse: a confident guy who's comically blind to all the reasons his life is really a mess.
Green consistently pokes gentle fun at both characters, but his long-time cinematographer Tim Orr's meditative shots — which sometimes focus on the woodsy terrain and wildlife around them — suggest that the director is after something beyond simple laughs, digging into the loneliness and mysteries of modern life. (The evocative, sometimes melancholy score, courtesy of David Wingo and the rock band Explosions In The Sky, lends further credence to this theory.) So even if Prince Avalanche feels more than a bit wobbly, it does show Green once again trying his hand at the idiosyncratic style of his promising early years, an encouraging sign one hopes isn't just a passing fancy.
Production companies: Muskat Filmed Properties, Dogfish Pictures, Lankn Partners, Dreambridge Films, The Bear Media, Rough House Pictures
International sales: Cinetic, www.cineticmedia.com
Producers: Lisa Muskat, Derrick Tseng, Craig Zobel, James Belfer, David Gordon Green
Executive producers: Leo Joseph, Todd Labarowski, Davíd Óskar Ólafsson, Árni Filippusson, Tobias Munthe, Theo Youngstein
Screenplay: David Gordon Green, based on the film Either Way by Hafsteinn Gunnar Sigurðsson
Cinematography: Tim Orr
Production designer: Richard A. Wright
Editor: Colin Patton
Music: Explosions in the Sky, David Wingo
Main cast: Paul Rudd, Emile Hirsch