Selma and A United Kingdom star calls for greater diversity among industry decision-makers and within film companies.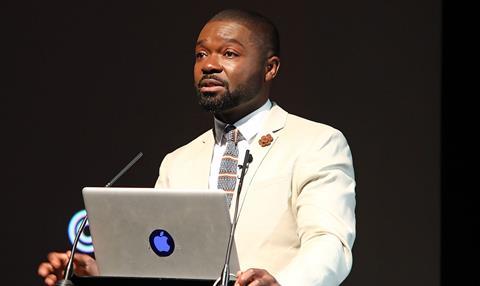 British actor David Oyelowo has slammed the lack of diversity among key decision-makers in the UK film industry, a trend which he says motivated his move to the US.
"I felt I had to leave," said the Selma star during an impassioned keynote speech at the BFI London Film Festival's (Oct 5-16) Black Star Symposium.
"If I had seen A United Kingdom when I came out of drama school, I don't think I would be living in America now."
The Bafta-nominated actor noted that fundamental change would only come when key executives, companies and organisations are noticeably more diverse.
"You have to change the people who are making decisions," he declared.
"Only when 50 percent of the people working in film companies are women and when a significant number come from minorities will we have diversity."
Oyelowo stated that homogeneity at the top of the business is proliferating homogeneity in the type of films being commissioned. To illustrate his point he read out a rejection letter he received in 2004 from an unnamed cultural decision-maker to a film he proposed making on Bill Richmond, a British black bare-knuckle boxer, who was arguably the first black sporting star.
Oyelowo noted their concerns over the 'lack of opportunity for costume dramas and the cost':
"'We feel that although the story is fabulous, if we are going to do fewer stories it has to have the element of treat surrounding them and often that means the viewer must have a sense of what it is they are to get. Either a familiar title, or a piece of history ripe for a revisit.'"
This response, he said, highlighted key failings in the UK industry.
"This story of Bill Richmond, that is a treat for me. The word treat is subjective, what is treat, but if you are the person enabling what the entire country gets to see and what you deem to be a treat dictates that, that is a lot of power."
Perspective
He then went on to talk about perspective. When he first read The Last King Of Scotland, which opened the London Film Festival 10 years ago, Idi Amin was very much a secondary character.
"The sheer force of Forest Whitaker's performance changed that; you cannot think of that film and think of Forest Whitaker as a peripheral character."
It was a similar story for The Help, he said, in which Emma Stone was the lead in the script.
"But when you watch the film, what you come away with is the performances of Viola Davis and Octavia Spencer, and that was reflected in awards."
This experience made him realise that "you can have a story and come at it at different angles, but it's very clear that who gets to tell the story dictates what the story is."
He walked the audience through the process of Selma, stating that at the script stage the film focused more on President Lyndon B. Johnson. It was only after Lee Daniels took up the reigns after two white directors had left the project that the focus of the film turned towards Dr. Martin Luther King.
"I watched that film transform from being from Lyndon Johnson's perspective through his [Daniel's] gaze. In my opinion the only American who has a holiday named after him at the end of the 20th century is probably worthy of being central to the story."
It was when Ava DuVernay came on board that the character of Corretta Scott King became a presence in the story, he said.
"Initially my interaction with Corretta Scott King was only a phone call, we never met in the script before Ava came along. Women characters gained in dimension."
This experience made him want to work more often with women directors: "I had been the beneficiary of a perspective that lined up with mine, that helped me segue to what I feel we have to do here, which is intention. Why if women constitute 50% of the population is [the act of] a woman directing a film so anomalous, so rare? I had to do something about this, so I followed Selma with a film I produced Five Nights In Maine directed by Maris Curran, then made Mira Nair's Queen Of Katwe and I fought for Amma Assante to direct A United Kingdom, because I'm very cognisant of the fact that as it pertains to diversity, if you are not part of the solution, trust me my friend, you are part of the problem."
In a later panel discussion, the actor said that it was only when he moved to America that British producers and directors suddenly became interested in casting him.