Screen speaks to up-and-coming producers from Serbia, Greece, Georgia, Turkey and Bulgaria.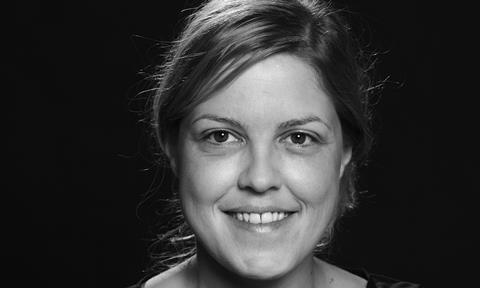 Sarajevo Film Festival's CineLink industry programme is in full flow. Below, Screen highlights five emerging producers from the region who are making waves.
Nataša Damnjanović (Serbia)
Serbian producer Nataša Damnjanović (pictured, top) started out as an editor, and since she founded the production company Dart Film together with Vladimir Vidić in 2006, she is still doing the editing on most of their films as well.
Damnjanović trained at Sarajevo and Berlinale Talents, Torino FilmLab and EAVE, and first produced Nikola Ljuca's short Sergeant in 2010 (which competed at Tampere), as well three shorts by Dane Komljen - A Surplus of Wind (2014), Our Body (2015), and All Still Orbit (2016), which screened at Locarno, Rotterdam, and Sarajevo.
Ljuca's first feature Humidity world-premiered in Berlinale's Forum in 2016 and won four national Serbian awards, including best film and best director. The same year, Komljen's debut feature All The Cities Of The North world-premiered in Locarno's Signs of Life section.
Damnjanović is currently in the financing stage with Ljuca's second film The Heroes Were Dancing, and with Komljen's sophomore feature Desire Lines she is taking part in Sarajevo's CineLink Co-production Market.
Another project in development, which went through Cinefondation and Torino Film Lab programmes, and has been supported by the Hubert Bals Fund, is director Katarina Stanković's feature debut Against the Day.
Maria Drandaki (Greece)
Greek producer Maria Drandaki comes from a film and television communication and development background. In 2009 she founded her own production company, Homemade Films, where she has so far produced or co-produced several successful documentaries and short films, including Konstantina Kotzamani's Limbo, which world-premiered in Cannes Critics Week in 2016, and went on to win more than 15 awards, including the Sarajevo Film Festival's nomination for European Film Awards, and the Best Short Film Award from the Hellenic Film Academy Award, and Mahdi Fleifel's A Drowning Man, a hit in this year's Cannes Short Film Competition.
Her first feature film, Homeland by Syllas Tzoumerkas, world-premiered in Venice 2010 Critics Week, and later won five national awards. The second feature by the same director, A Blast, a co-production with Germany, the Netherlands, and Italy, world-premiered in Locarno's competition in 2014 and later screened at more than 30 festivals. Drandaki followed it up next year with Yorgos Zios's Interruption, which first bowed in Venice's Orizzonti Competition.
This summer Drandaki wrapped up principal photography on the first film of Nikos Labot, Her Job, a co-production with France's Sister Productions and Serbia's Sense Production, and this September she starts production on Tzoumerkas' third film, The Miracle Of The Sargasso Sea, together with Germany's unafilm, the Dutch company PRPL, and Gothenburg-based Dragon Film.
She is also currently working on The Dragon Has Come, the directing debut of Dogtooth star Christos Pasalis. The project is taking part in Sarajevo's CineLink.
Lasha Khalvashi (Georgia)
Georgian producer Lasha Khalvashi, of Tbilisi-based Artizm Studio, is one of the country's most prolific film professionals. His credits as a producer or co-producer include Tinatin Kajrishvili's Brides, which world-premiered in Berlinale's Panorama in 2014 to critical acclaim followed by wide festival exposure including a competition slot at Sarajevo; Vano Burduli's The Summer of Frozen Fountains which competed at Tallin Black Nights in 2015; and Scary Mother by Ana Urushadze, which just won the Swatch First Feature Award at Locarno and is now in competition at Sarajevo.
Khalvashi is currently working on two projects: Kajrishvili's second feature Horizon, at the moment taking part in CineLink's Work in Progress, and Neighbours by Gigisha Abashidze, the first ever Georgian-Macedonian co-production, together with Skopje-based Svetozar Ristovski of Small Moves Films
Yoel Meranda (Turkey)
Turkish producer Yoel Meranda last year won the Heart of Sarajevo with Mehmet Can Mertoglu's Album, which he produced through his company Kamara, together with France's ASAP Films, Romania's Parada Film, and ARTE France Cinéma. The film world-premiered in Cannes Critics Week where it won the France 4 Visionary Award.
Meranda is now working on a documentary set in Israel, together with director and producer Eytan Ipeker, who is his partner in Kamara. The title of the project and the synopsis are undisclosed, but the Danish company Snowglobe, which is behind new projects by Amat Escalante, Carlos Reygadas and Ciro Guerra, and Israel's Spiro Films, which just announced the new Samuel Maoz film Foxtrot, are on board, and the rights have been pre-sold to the Danish Broadcasting Corporation.
Meranda is a director in his own right, whose experimental video works screened at Toronto, Edinburgh and Thessaloniki, and he is currently in post-production with his first narrative feature 200, shot in Sarajevo in partnership with the Bosnian company SCCA/Pro.ba, known for Danis Tanović's Death in Sarajevo and An Episode In The Life Of An Iron Picker.
Maya Vitkova (Bulgaria)
Bulgarian filmmaker Maya Vitkova is equal parts director and producer. After executive-producing Kamen Kalev's 2008 local box office hit Eastern Plays, she founded her own company Viktoria Films. She first directed and produced two short films – Stanka Goes Home (2010), which premiered in the Cannes Critics Week, and My Tired Father (2011), which premiered in competition at the Oscar-qualifying CFC Worldwide Short Film Festival in Toronto. Both scripts were penned by the Silver Bear-winning Romanian writer and director Radu Jude.
In 2014, Vitkova's feature debut as director, Viktoria, co-produced with Romania's Mandragora (the company behind films of Cristi Puiu), world-premiered in Sundance competition, followed by more than 70 festivals, and the same year she was selected for European Film Promotion's Cannes event Producers on the Move. This year she took part in the EAVE workshop for producers, and she is preparing her second feature as director and producer, Afrika, again partnering with Mandragora. The project is taking part in Sarajevo's CineLink Work in Progress section.