The Colombian private broadcaster is exploring new collaboration opportunities with Ciro Guerra and producer Ciudad Lunar after investing in the Oscar-nominated film.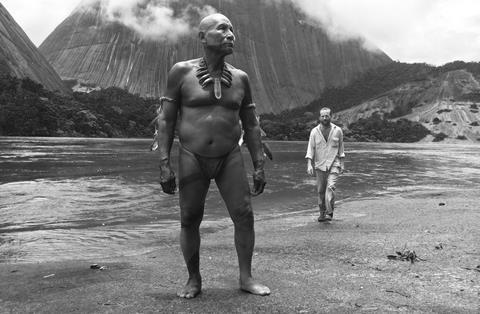 Colombia's foreign language Academy Award contender is the most high-profile feature backed by Caracol Television under a relatively young initiative that has already supported around 25 features in four years.
Alejandro Bernal, the company's general manager of new channels and film, had been looking for a story of the Amazon and recalled how he took almost no time at all to agree to help Guerra fund his adventure-drama following a meeting in late 2012.
"Ciro came in and… we talked for a few minutes before we knew it was the right time [to invest in the film]," said Bernal. "It's not always easy to have global success with an auteur film bit we took a bet on it."
The film already had support from Iberomedia fund and Proimagenes Colombia when Caracol Television took an associate producer credit and ploughed in approximately $400,000 for a one-third equity position as well as an additional $500,000 in global marketing.
Bernal said Caracol Television has already recouped. Embrace Of The Serpent has generated 425,000 admissions in Colombia as of February 25 after 40 weeks and counting in theatres. It opened in North America last weekend and scored $50,955 from three theatres.
The company's investment strategy is underwritten by an annual allocation of $2m. Caracol Television has two features coming up this year — a Colombian remake of Mexican smash The Noble Family (Nosotros Los Nobles) with Argentina's Patagonik, and drama Fragments Of Love (Fragmentos De Amor Furtivo) — and is currently reviewing around 15 different projects.
"We want producers to have the success that Ciro has had," said Bernal. "Sometimes we might take a different position on a film, such as on an international movie that shoots in Colombia and takes advantage of the Law 1556 production incentive."
The pipeline includes a deal with LA-based Marvista Entertainment that will see action film Abducted and thriller Black Market both shoot in the country.
The hope is that the investment targets will go from strenth to strength. "What the world sees with Embrace Of The Serpent is the quality of the movie that can be produced in Colombia," said Bernal. "Ciudad Lunar led the process, so it's an important showcase for the Colombian industry."
This article was amended on February 26 to say Embrace Of The Serpent generated 425,000 admissions in Colombia; not $425,000.