Dir: David Verbeek. Netherlands-France 2010. 87mins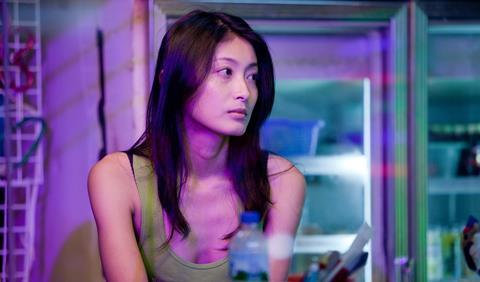 A European computer-game geek finds his inner mojo, or nirvana, thanks to an obliging Asian escort girl in R U There, a gentle and narratively paper-thin two-hander.
A film likely to tweak attention at festivals with Asian and/or cyber specialisations.
Cyber-world background and matching visuals provide a veneer of glossy modernity, but the film does little to convince us of its message that the real world is more vital than the virtual one: both look equally hackneyed in this Taiwan-shot vignette. Commercial prospects are slender for a film more likely to tweak attention at festivals with Asian and/or cyber specializations.
Jitze (Koomen) is a professional computer gamer visiting Taipei for a tournament with his team. Uptight and painfully focused on his game, star player Jitze is happier living on screen than in the real world. When he does venture into the street, he barely reacts to the sight of a traffic accident and a motorcyclist dying in front of him.
But something gets to him: first he suffers an inexplicable shoulder pain, then blows a vital match. Suspended from the team, Jitze bumps into Min Min (Ke), a hooker working his luxury hotel, and hires her to give him a massage, although there are strictly no trimmings involved.
Jitze becomes a regular customer, and the two strike up a platonic relationship that only turns romantic online, as they meet as avatars in the virtual fantasy world 'Second Life'. In this garish, sugar-sweet sector of the digital domain, Min Min appears as a pink-haired fairy with a cat on her shoulder, infusing the film with a dose of kitsch that will be a deal-breaker for many viewers.
Eventually, Jitze pays Min Min to let him accompany her to her family home in the country, where he loosens up considerably. By the time the film reaches its mawkish fantasy ending, Jitze seems to be a whole new man - but what's in it all for Min Min, except a healthy fee, is never quite clear.
The film's message is brought home with sometimes painful clarity - we need to forget digital dreams and get back on good terms with reality. Verbeek reminds us of this by juxtaposing the on-screen imagery that preoccupies Jitze with shots of the Taipei streets, with all their mundane but gritty energy, or by having an acupuncturist pointedly tell Jitze, "You are living inside your head too much - don't forget you also have a body." Jitze finally gets the message when he discovers the countryside, with enigmatic shots of waving trees suggesting a touch of influence from Apichatpong Weerasethakul.
Min Min herself remains an enigma throughout - which is a shame, as Ke proves a much more warmer and more nuanced performer than the stiff, sullen Koomen. Mixing sparse Dutch and English dialogue with unsubtitled Chinese, the film only touches on the element of touristic exploitation in the couple's relationship, and Min Min never emerges as more than a convenient conduit for Jitze's awakening. Although Verbeek seems very at ease in urban Taiwan, his film finally comes across as Orientalist fantasy, in which an oddly chaste cute-meet doubles as new age therapy.

Production companies: IDTV Film, Les Petites Lumières, VPRO
International sales:
 Films Boutique, (49) 30 6953 7850
Screenplay: Rogier de Blok
Producer: Frans van Gestel
Cinematography: Lennert Hillege
Editor: Sander Vos
Production designer: Wang Shih Hui, Lin Ing Chyang
Music: Lim Giong
Main cast: Stijn Koomen, Huan-Re Ke