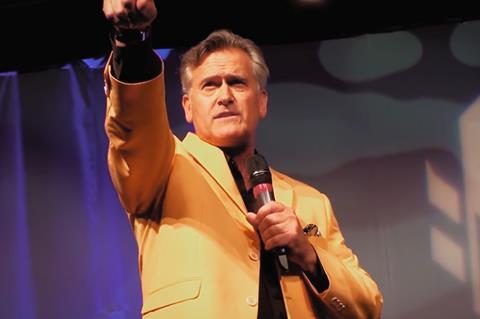 Raven Banner is commencing sales at TIFF on the recent Fantasia selection, Evil Dead documentary Hail To The Deadites.
Indiecan Entertainment has acquired Canadian rights to Steve Villeneuve's homage to the die-hard fans of Sam Raimi's beloved 1981 horror film.
Hail To The Deadites features interviews with Raimi's actor-director brother Ted Raimi, Evil Dead franchise star Bruce Campbell, effects wizard Tom Sullivan, and a host of cast members and collaborators.
Villeneuve also talks to super fans, crew members and collectors who worked on and were inspired by the original film that spawned four films and a TV show.
James Fler and Michael Paszt of Raven Banner Entertainment, Indiecan CEO Avi Federgreen, and producer/director Villeneuve of DiggerFilms negotiated the deals.
"Throughout the adventure [of making Hail To The Deadites], I discover that Evil Dead fans are more than just fans, they are a family who help out each other even if they are miles away," said Villeneuve. "I'm proud to be a part of this groovy family."
Villeneuve worked with Raven Banner on his 2011 Fantasia documentary Under The Scares and from 2012-16 served as head of the horror section at the Montreal, Quebec City and Ottawa Comic-Con. He is co-organiser of the only Quebec horror convention, Requiem Fear Fest.