Relativity Media has announced strategic alliances with China's Jiangsu Broadcasting Corp (JSBC) and Industrial and Commercial Bank of China (ICBC) and has also been appointed international distribution partner by China Film Promotion International.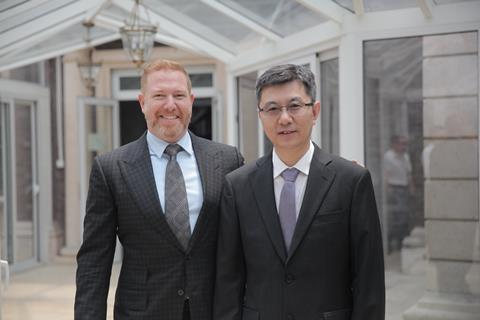 JSBC is making an equity investment in Ryan Kavanaugh's Relativity Media as part of a wider agreement aimed at developing, co-producing, co-financing and distributing films and TV content for both Chinese and international markets.
Relativity Media will also receive equity investment from Chinese media investment firm SeedShine Capital, in a deal brokered by ICBC. Relativity has a strategic advisory agreement with ICBC and is understood to be working with the bank on a Hong Kong stock market listing.
"Relativity has deep and growing ties to China, one of the world's most dynamic and vibrant film markets, and the partnerships we announced today will further strengthen the robust foundation we have built in China," said Kavanaugh in a statement.
Under the deal with state-owned China Film Promotion International (CFPI), Relativity will promote and distribute Chinese-language films licensed by CFPI in the US market, in return for a distribution fee. Relativity will also help promote Chinese-language films at major international film festivals.
Gu Guoqing, newly-appointed head of CFPI, said: "Relativity is an ideal partner to help drive CFPI's mission of bringing Chinese films to international audiences. CFPI and Chinese film-makers will benefit from Relativity's strong international distribution network and track record of success as one of the fastest-growing film studios."
The first film to be distributed in the US under the deal is Cheng Shiqing's romantic war film Imperial Consort Yang, starring Fan Bingbing and Leon Lai, based on the love story between Yang Guifei and Li Longji.
Proceeds from the deals with JSBC and SeedShine will be used to increase Relativity's annual release slate to more than 15 movies by 2015/2016; to expand Relativity's digital offer, including content for mobile, internet and OTT platforms; and for strategic acquisitions of film and TV libraries, TV networks and ad agencies.
Relativity already owns Beijing-based distribution and financing company SkyLand Entertainment. Originally a joint venture between Relativity, IDG China Media Fund and SAIF Partners, SkyLand is now a wholly-owned subsidiary of Relativity with close links to state-backed distributor Huaxia Film Distribution, which is one of two companies along with China Film that handles foreign movies. Recent Relativity releases in China include Free Birds, Mirror Mirror and Immortals.