Sam Mendes re-stages the First World War for the big screen.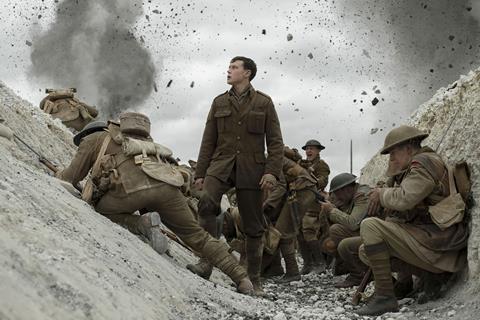 Dir. Sam Mendes. UK. 2019. 118 mins.
In 1917, writer-director Sam Mendes seeks to blast The Great War into modern-day theatres by applying a Saving Private Ryan treatment to the most tragic of conflicts which has been met cinematically with a century's worth of reverberating shock and reverence. He uses the front as a set for nail-biting drama - a big-screen, single-shot action thriller, a World War II-style film about the First World War. Mendes, working with young screenwriter Kyrsty Wilson-Cairns, should be lauded for his boldness; there may be some initial structural issues, but the film does not fall short in its audacity, or in its honour of the 40 million who lost their lives in this futile fight.
There's an audacity here which is completely unexpected
1917 is dedicated to the director's great-grandfather, and his stories of the 'war to end all wars' which he survived. And there's an appealing, child's-ear naïvety to the plot about an insane dash across enemy lines as the clock ticks towards a certain massacre. The challenges and intense structuring required to facilitate a one-shot narrative can weigh heavy at times, though, threatening to overshadow the emotion with all the flashy technical facility. Yet audiences, once schooled in the sense that this is no unbearably sepulchral and sad Great War memorial – like the recent Journey's End, or Peter Jackson's documentary They Shall Not Grow Old – will find their way in and admire what they see.
Although it's not composed of one single shot in reality, 1917 certainly comprises several seven-, eight-, or even nine-minute showboaters in the service of a seamless take. And the edit is so fluid, it's hard to find that seam, at least until the point where the narrative finally grabs hold and the audience is no longer looking for one. It is all so closely choreographed – the dialogue alone is timed to split-second perfection with the movement – that there's a sense initially of letting the emotion hang while the audience sits back and admires. The two main stars, as well, don't bed in so easily at first – perhaps because the camera is moving backwards as it tracks them down the trenches, giving the disorienting sense of a train in reverse.
They are lance-corporals Schofield (George MacKay) and Blake (Dean-Charles Chapman), given a seemingly suicidal mssion by a General Erinore (Colin Firth, in the first of many brief but impactful roles by recognised actors including Andrew Scott, Mark Strong, Benedict Cumberbatch and, movingly, Richard Madden). They must go over the trenches and into enemy territory - across a No Man's Land recently and suspiciously vacated by the German Forces - to hand-deliver a command which will stop a 1600-strong regiment charging into a certain death. The inexperienced Blake's brother is one of those troops and he simply wants to run to his rescue; Schofield has survived the Somme and has a more respectful wariness of what lies on the other side.
1917 really belongs to the young George MacKay, recently seen – or in some markets about to be seen - in The True History of The Kelly Gang. There he played a feral outback rebel. Here he looks eerily like, or makes himself look like, a true Tommy, his face a tight facsimile of those we saw in They Shall Not Grow Old. The film asks a lot of him - more as time goes on - giving him no back story and minimal dialogue after a certain point in which to articulate his increasing desperation and peril. It's a tribute to the actor, in all his rangy physicality, that he lands the emotion every time without fail.
There's a daring here which is completely unexpected: amid wafts of The English Patient and Saving Private Ryan comes the suspicion that Mendes and Wilson-Cairns may have sprinkled their story with elements of Indiana Jones, and possibly some Bourne as well. Will they get away with it? The answer is yes, because the initial surprise delivered by such seeming irreverance helps open the viewer up to the possibilities of thinking about that damned generation in a more actively heroic way, a way they might indeed have liked to be perceived. Mendes is intent on bringing a sense of breathless derring-do to a war only known for its doomed futility. And he loads onto it a one-take challenge, a rolling-back and slowly-swerving camera, using the sleight of hand which distinguishes the best action cinema of this kind.
As his DoP again, Roger Deakins makes appropriate and equally unexpected choices: initially, at least, 1917 is shot in full daylight. Normally only viewed through filters and smoke, as in War Horse, the trenches and swampy, sodden craters of the front are bright, open to scrutiny. Deakins matches his director's need to re-stage the First World War cinematically by bringing it out of the shadows. And the edit, by Lee Smith, just glides the film down that track. Without a doubt the armed forces strode off whistling and smiling to their certain death in 1914. But 1917 gives them, at least, some agency in that journey.
Production companies: Neal Street Productions
International distribution: Universal/Amblin Partners
Producers: Sam Mendes, Pippa Harrison, Jayne-Ann Tenggren, Callum McDouga
Screenplay: Sam Mendes, Krysty Wilson-Cairns.
Cinematography: Roger Deakins
Production design: Dennis Gassner
Editing Lee Smith
Music: Thomas Newman
Main cast: George MacKay, Dean-Charles Chapman, Mark Strong, Andrew Scott, Richard Madden, Claire Duburcq, Colin Firth, Benedict Cumberbatch.