A sober black-and-white look at being gay in conservative Texas in the titular timeframe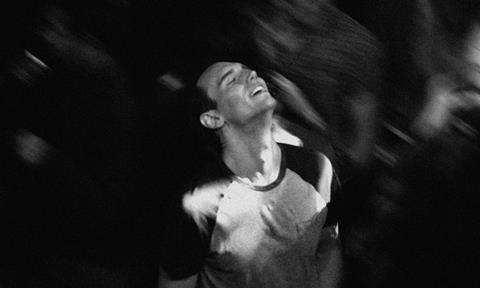 Dir. Yen Tan. US. 2018. 85 mins
In 1985, Yen Tan takes us back to a time when being gay was a mark of shame in conservative Texas, if anybody knew, and families were no sure haven for the persecuted. If this sounds like ancient history, 1985 is an earnest reference for those born too late to know that time.
Yet with all the prejudice and pain, the film still feels a lot like a sermon
Tan has enlisted big names for a small film in black-and-white that tries for a period look. Virginia Madsen and Michael Chiklis play the mother and father of Adrian (Cory Michael Smith), a closeted young man returning home for Christmas from gay exile in New York to parents who don't know his secrets. 1985's subject will drive its market potential more than the names in its cast. The austere shadowy story of family and a young man's hidden sexuality should play festivals – not just the LGBTQ circuit – in the US and abroad. Although any art house release is likely to be limited, its universal story could help it get released beyond North America.
Once willowy Adrian greets his burly father at the airport, we see a young man who is out of place in his home town, with his family, and with the stern local Christianity. Much that's left unsaid (or implied when the camera cuts away to New York) suggests a revelation of something that Adrian is holding inside. For all the young man's mysteries, you can see that coming minutes into the film. That same malaise devolves onto Adrian's brother, Andrew (Aidan Langford), a sensitive mini-Adrian who listens to Madonna (get it?) and yearns to visit his big brother in New York.
Tan made a taut poignant nine-minute film of the same title (SXSW 2016), about a young man who hides the blotchy scars of HIV-related Kaposi's Sarcoma with makeup before traveling home. In his third feature as sole director, the spare solemn script marches through familiar territory – gruff dad, sweet mother, sensitive younger brother, and hints that Adrian was bullied in high school. The you-can't-go-home-again template includes a lonely Korean-American former girlfriend (Jamie Chung). She wasn't the right race for Adrian's parents when they dated, and performs stand-up comedy to throw anti-Asian scorn back at the audience.
As each encounter reminds Adrian that he's an outsider, Tan recreates the environment of 1985, when people listened to cassette tapes on Walkmen and prejudice against those who were different went unchecked. That picture is rudimentary, and so is the dialogue. Evoking an intolerant past gives the film a preachy feel, until 1985 gets downright motivational in the form of Adrian's advice to a younger generation.
The production design by Brittany Ingram renders that time mostly in dark interiors shot by DP HutcH, and the drama looks situated in Anywhere USA, rather than in Texas. For all their praying, the characters don't speak like Texans, except for a radio preacher who drawls in the background from time to time. If Tan is trying to remind us with those generic sets and speech that you didn't have to be Texan to show prejudice back then, who can disagree?
Even with uneasiness dripping from Smith as Adrian, the acting in 1985 is like the script – stiff. 1985 gets the notes right, and its foreboding look takes us back to a dark age. It's a lesson worth remembering. Yet with all the prejudice and pain, the film still feels a lot like a sermon.
Production companies, backers: MuseLessMime Productions, Cranium Entertainment, Floren Shieh Productions, Rainmaker Films
International sales: Paradigm, dkigongo@paradigmagency.com
Producers: HutcH & Ash Christian
Executive producers: Clay Floren, Clay Pecorin, Aimee Shieh, Russell Geyser, Cory Michael Smith, Nancy Schafer, Ian Brownell, Monte Zajicek, Stacey Davis, Grey Sample, Brooke Christian, Brent Brewer, Brett Brewer
Screenplay: Yen Tan, from a story by Yen Tan, HutcH
Cinematograpy: HutcH
Editors: HutcH, Yen Tan
Production design: Brittany Ingram
Score: Curtis Heath
Music: Dutch Rall
Main cast: Cory Michael Smith, Virginia Madsen, Michael Chiklis, Jamie Chung, Aidan Langford