A father and his two children struggle to connect in Ilian Metev's naturalistic drama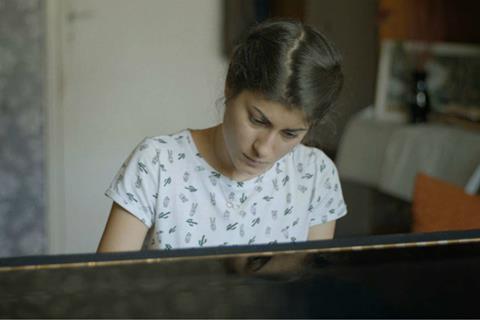 Dir/scr. Ilian Metev. Bulgaria-Germany, 2017, 82 mins.
Bulgarian documentarian Ilian Metev makes the jump to fictional features with a naturalistic eye and an acknowledgement of life's imperfections, as evident in the narratively slight but emotionally sincere 3/4. As its title intimates, something is absent for the film's central trio — certainty about the future, domestic cohesion and their matriarch, for starters — though viewers have everything they need to enjoy the observational insights flowing from this measured but involving family portrait.
Metev probes how a family can be both divided and united, presenting an account of domesticity that's steeped in reality
The film plays Toronto after winning top honours in Locarno's Cinema of the Present strand, and further international attention beckons for an engaging slice-of-life effort.
Working with regular collaborator and co-scribe Betina Ip on their first project since the award-winning 2012 documentary Sofia's Last Ambulance, Metev explores the lives of shy teenage piano prodigy Mila (Mila Mihova), her attention-seeking younger brother Niki (Nikolay Mashalov) and preoccupied astrophysicist father Todor (Todor Velchev). It's telling that talk rather than action comprises the bulk of their time together — not that there's much of it. It's similarly revelatory that they're frequently pursuing their own interests.
Accordingly, over what proves a summer of unexpected transformation, Mila prepares for an important audition for a German music school, with teacher Simona (Simona Genkova) both supportive and instructive. The pre-teen Niki sometimes tags along, although often he's wandering the streets with his school friends. Immersed in his work, Todor has more time for the anxieties of his students than for his children. Specifically, he's busy with encouraging one promising pupil (Alexander Kurtenkov) to spread his wings abroad.
Yet painting a picture of dysfunction and disharmony isn't the film's focus. Instead, Metev probes how a family can be both divided and united, presenting an account of domesticity that's steeped in reality. His characters prove floating pieces of a whole, rarely together but still connected.
That gives the filmmaker and his crew ample thematic material to toy with, whether emphasising authenticity or recognising that space can still remain in intimate circumstances. With an unadorned approach to storytelling that's hardly surprising given his factual background, Metev's approximating actuality is on display in everything from his natural lighting choices to his willingness to let scenes play out as long as they need to and his non-professional cast, who inhabit their roles with unaffected ease.
Visually, cinematographer Julian Atanassov (The One You Follow) routinely places distance around the feature's characters, and between them and the audience. The patter of their interactions seethes with everyday familiarity, but division and tension remains. There's an extended view of a children's schoolyard game without the players being shown, for example, and conversations are often heard through doorways.
With its moniker also reminiscent of the music that's so important to Mila — a line of dialogue also references the family's differing rhythms — the feature also sits somewhat out of sync with contemporary Bulgarian cinema. Misery and corruption are ingrained in recent efforts such as 2016 Golden Leopard winner Godless and the well-received Glory, for example, even if the latter flirts with black comedy. In depicting far from idyllic circumstances, acknowledging deficiencies but refusing to dwell in negativity, 3/4 appears positively hopeful in contrast.
Production companies: Sutor Kolonko, Chaconna Films
International sales: Memento Films International, sales@memento-films.com
Producers: Ingmar Trost, Ilian Metev
Executive producer: Petko Lungov
Screenplay: Betina Ip, Ilian Metev
Cinematographer: Julian Atanassov
Editor: Ilian Metev
Cast: Mila Mikhova, Niki Mashalov, Todor Velchev, Simona Genkova, Alexander Kurtenkov