A superb John Boyega joins a strong cast in Abi Damaris Corbin's military veteran drama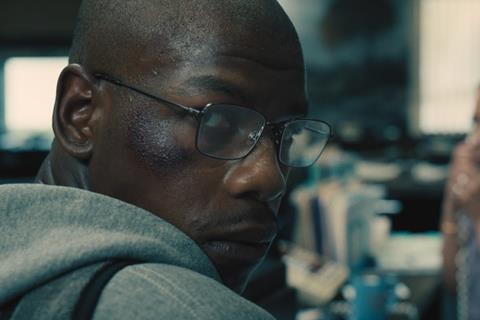 Dir: Abi Damaris Corbin. US. 2022. 102mins.
John Boyega is heartrending as a troubled ex-Marine in 892, a tense hostage-negotiation drama critical of an American government that turns its back on former soldiers in need. Based on a true story, Abi Damaris Corbin's feature directorial debut recounts the plight of Brian Brown-Easley who, in 2017, walked into an Atlanta bank with a bomb demanding that Veterans Affairs pay him the money he was owed — or else he would detonate the device. Superb performances from Boyega and the late Michael Kenneth Williams highlight this sombre, character-driven tale.
Requires a deft performance from Boyega, who is superb at conveying the character's warring emotions
Screening in Sundance's US Dramatic Competition, 892 will court buyers thanks to its strong cast, which also includes Nicole Beharie and Connie Britton. The film boasts a marketable narrative hook, and the compassionate tone underscoring the trauma soldiers face when they return home could strike a chord with arthouse crowds.
When we meet Brian (Boyega), he's separated from his wife Cassandra (Olivia Washington), who has taken custody of their young daughter Kiah (London Covington). Struggling to make ends meet and on medication, Brian visits a local bank, telling employees Ethel (Beharie) and Rosa (Selenis Leyva) that he has an explosive device in his backpack. But he doesn't want to rob the place — rather, he wants to hold the two women hostage so that he can get on the news and tell the world how Veterans Affairs denied him the disability check he badly needs.
Corbin, who also cowrote the screenplay with Kwame Kewi-Armah, works from a well-trod narrative framework populated by familiar character types. (Williams plays Bernard, a hostage negotiator determined to make sure everyone, including Brian, gets out alive, while Britton is Lisa, a veteran TV news producer who gets entwined with this story.) But 892 is far less interested in plot mechanics than in crafting a sympathetic portrait of an Iraq War veteran struggling away from the battlefield. Brian may be dangerous, his temper flaring up without warning, but the picture never lets us forget the pain and desperation that have brought him to this moment.
This requires a deft performance from Boyega, who is superb at conveying the character's warring emotions. Seemingly about to crack but also surprisingly polite, bashfully apologising to Ethel and Rosa when his actions scare them, Brian comes across as a young man who has been pushed to a breaking point but wants to hold onto his sense of civility. And yet, it's clear that he's grappling with profound mental-health issues, never more apparently than when he goes on a paranoid rant about his estranged brother. We don't see much of Brian's military service — only one teasingly brief flashback scene is included — but Boyega's bubbling anxiety hints at combat's psychic toll.
The actor's complex, unfussy turn is matched by most of his costars. Beharie is particularly effective as a bank manager trying to remain calm under impossible conditions, doing her best to reason with her captor. As for Williams, who died in September, he portrays Bernard as a seasoned hostage negotiator who knows how to connect with Brian; after all, they're both former Marines. Boyega and Williams communicate only by phone, but their easy rapport suggests two men who, despite having very different circumstances, understand something profound about one another. Williams transcends his character's cliches, effortlessly convincing us that Bernard wants to save this young man — even if Brian himself is ready to die.
Cinema has had its share of taut showdowns between crooks and cops, from Dog Day Afternoon to Inside Man, but Corbin's realistic depiction helps mitigate the story's conventional elements. Beyond the fact that 892 is based on actual events, the film resonates because of its commentary on the way government institutions fail individuals — whether it's Veterans Affairs, meant to provide a safety net for imperilled former soldiers, or law enforcement, which can't always be trusted to de-escalate volatile situations. (Tellingly, Brian figures he'll be killed by the authorities because he's Black, informing his strategy during the hostage crisis.)
Some of 892's plotting can be predictable, but that's partly because Brian's ordeal plays out in ways that are depressingly familiar. The film creates a crucible in which mental illness, poverty, trigger-happy cops and substandard health care all contribute to a potential tragedy. Inside the bank, Doug Emmett's camerawork emphasises the claustrophobic situation, but Boyega demonstrates that it's even more fraught inside Brian's worried mind.
Production companies: Salmira, Epic Magazine, Little Lamb, UpperRoom
International sales: WME, dmcintosh@wmeagency.com
Producers: Salman Al-Rashid, Sam Frohman, Ashley Levinson, Kevin Turen, Mackenzie Fargo
Screenplay: Abi Damaris Corbin & Kwame Kwei-Armah
Production design: Christian Snell
Editing: Chris Witt
Cinematography: Doug Emmett
Music: Michael Abels
Main cast: John Boyega, Nicole Beharie, Olivia Washington, Selenis Leyva, Kate Burton, Connie Britton, Jeffrey Donovan, Michael Kenneth Williams