A multi-level, multi-media exploration of what it means to patrol the streets of Mexico City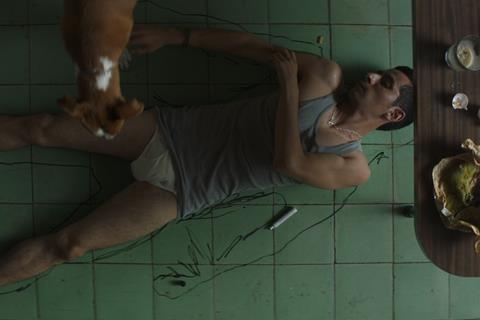 Dir: Alonso Ruizpalacios. Mexico. 2021. 107 mins
"Who in their right mind would be a cop in Mexico city?" It is a fair question that Alonso Ruizpalacios attempts to answer in A Cop Movie with an intriguing fusion of drama, documentary, video diary and some determined smashing of the fourth wall. The layering of styles and perspectives provides a sympathetic insight into the motivations and real life experiences of police officers working within a fundamentally corrupt system. A Netflix title set for transmission later this year, A Cop Movie premieres in Competition in Berlin where it should attract attention.
An assured, thought-provoking investigation
Determined to test the limits between fact and fiction, Ruizpalacios begins by paying tribute to all the trappings of a genre film. A flashing blue light fills the screen and a siren wails on the soundtrack as a police car prowls the night streets responding to a call for assistance. The world shot through a car windscreen is filled with danger and the terrors of the vast unknown. Police officer Teresa (Monica Del Carmen) discovers a woman in labour who has waited two hours for an ambulance that has never been dispatched. There is no alternative but to deliver the baby herself.
Ruizpalacios confirms throughout that he has all the skills to make a fine buddy cop film playfully delivering changing room banter between colleagues and a well-staged, adrenaline rush of a suspect chase that descends into the subway. There is a nod here to Sidney Lumet films from the 1970s and that feel is further enhanced by a funky, bossa nova soundtrack that samples classic 1960s riffs from the work of composer Lalo Schifrin.
Ruizpalacios's bigger intent is revealed as Maria Teresa delivers a lengthy monologue that talks of her 17 years in the force and a desire to follow in the footsteps of her father who had also served as a police officer.
Divided into five sections, A Cop Movie subsequently introduces us to fellow police officer Montoya (Raul Briones Carmona). His brother was a police officer and it becomes apparent that many officers in Mexico are following in a family tradition. We soon learn that Teresa and Montoya are a couple whose relationship blossomed from colleagues to lovers. A bribe to their bosses ensures that they are assigned the same patrol.
Just when the film seems to have settled on an identity that is part police procedural and part mock-documentary, Ruizpalacios throws all the cards in the air. The camera pulls back to reveal the making of a film in progress. He shifts into very different territory, detailing the lengthy period that actors Monica Del Carmen and Raul Briones Carmona have committed to preparing for their roles. Mobile phone video diary footage covers their time at police academy, training to join the force and immersing themselves in the culture of how the police operate. We see more of a world in which corruption is assumed, bribes are expected, everything has a price and there is a daisy chain of pay-offs that connect rookies to top-level veterans.
Eventually, we also meet cops Maria Teresa Hernandez Canas and Jose de Jesus Rodriguez Hernandez, who inspired the film. The candour in their discussion of what they have endured cuts deeper for all the multi-faceted context that Ruizpalacios has provided.
An attempt to further understanding of a profession rather than judge any individuals, A Cop Movie develops into an assured, thought-provoking investigation that confronts the complexities of a system that seems designed to defeat idealism and leave criminality unpunished.
Production Company: No Ficcion
International distribution: Netflix
Producers: Daniela Alatorre, Elena Fortes
Screenplay: Alonso Ruizpalacios, David Gaitan
Editing: Yibran Asuad
Cinematography: Emiliano Villanueva
Prod des: Julieta Alvarez Icaza
Main cast: Monica Del Carmen, Raul Briones Carmona, Jose de Jesus Rodriguez Hernandez, Maria Teresa Hernandez Canas