Dir/scr: Joko Anwar. Indonesia/South Korea. 2015. 116mins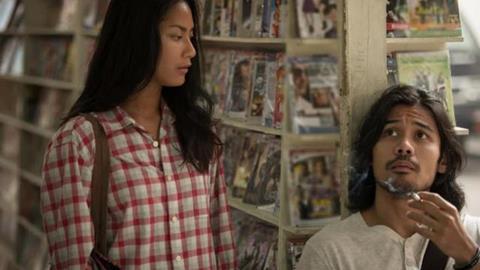 Prominent Indonesian filmmaker Joko Anwar (The Forbidden Door) collaborates with South Korea's CJ Entertainment on his latest feature A Copy of My Mind, which is set Jakarta and tells the story of young couple who fall in love but end up in trouble when the woman steals a DVD from a client. Both affecting and absorbing in equal measure, A Copy Of My Mind shirks melodrama to explore the difficulties faced by those living in a city marred by political corruption.
Anwar focuses on characters and the strong chemistry between his two leads as he maintains a steady pace
Having secured slots in Venice, Toronto and Busan – where last year, it won the CJ Entertainment award at the APM (Asian Project Market) - this film's continued journey on the festival circuit remains bright, though further exposure beyond festivals could be limited to arthouse channels.
Tara Basro (Killers) plays Sari, a beauty-salon worker who spends her evenings at home in a cramped and dark room watching pirated films. Meanwhile, Alek (Chicco Jerikho), works on a meagre wage producing the subtitles for these illegal DVDs. Given the number of titles he has to complete in one night, they're hastily put together.
When Sari complains and demands an exchange because of the poor subtitling, she is forwarded to Alek in the DVD shop. When Alek later sees her steal another DVD, he confronts her. Before too long, Sari and Alek are watching films together at his home, and a romance blossoms.
Sari, meanwhile, has found a new job at a more upmarket beauty salon, but she grows impatient watching her colleagues giving facial treatments. She approaches her boss Bandi (Paul Agusta) to ask if she can begin actually working with clients. He refuses, but offers a compromise by sending her to a high profile convict called Mrs Mirna (Maera Panigoro) to give a facial. Mirna appears well-connected and able to receive special treatment with a large TV, DVD collection and fridge in her cell – one for "special convicts."
Things take an unexpected turn when Tara steals a DVD from this prisoner, believing it to be a monster movie, but it it is later revealed to be evidence of political corruption in a presidential campaign. This puts the pair in grave danger.
Anwar focuses on characters and the strong chemistry between his two leads as he maintains a steady pace. Even as the danger heightens, the film doesn't suddenly accelerate or shift gears. Much like Anwar's other films, A Copy Of My Mind is technically accomplished, paying careful if understated attention to the surroundings.
Neither lead is especially charismatic, but both Tara Basro and Chicco Jerikho are able to help carry the film with their carefully calculated performances. Ultimately, A Copy Of My Mind conveys the political and social turmoil faced by so many in Jakarta through their eyes, and it's the pair's genuine and natural abilities that help give the film more than a touch of authenticity and sincerity.
Production Company: Lo-Fi Flicks & CJ Entertainment
International Sales: CJ Entertainment (http://en.cjenm.com/business/film/film.aspx)
Producers: Jeong Tae-sung, Joko Anwar, Tia Hasibuan
Screenplay: Joko Anwar
Cinematography: Ical Tanjung
Editor: Arifin Cuunk
Production designer: Windu Arifin
Music: RooftopSound
Main Cast: Tara Basro, Chicco Jerikho, Maera Panigoro, Paul Agusta