Dir: Yael Hersonski. Israel-Germany. 2010. 89mins.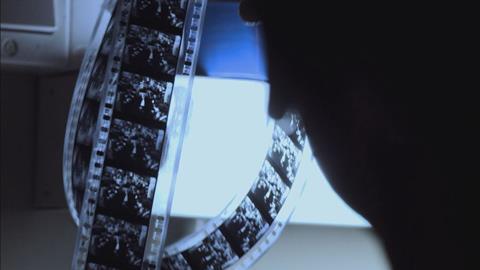 A fundamental problem of Holocaust imagery, whether in the form of newsreel, fiction feature or still photographs, is that nearly 65 years after the Second World War ended, their impact has become nearly exhausted. Yael Heronski had her work cut out for her when she stumbled on the unedited footage of a Nazi propaganda film that was intended to create a false impression of life inside the Warsaw Ghetto, where nearly half a million Jews and other enemies of the Third Reich were crammed until they were deported and killed.
Regardless of its qualities and flaws, A Film Unfinished is required viewing for Jewish film festivals and archives and will get some play on television. Some of the sequences have been included in other documentaries, however, and relatively speaking and as egregious as it is, the footage pales in comparison to what has been available up until now, including fiction like Jew Suss that reveals more "truth" than non-fiction projects.
That Heronski connects the original sequences with such tired, conventional devices as reenacted scenes, self-reflexive shots of projectors and film reels, the reacting faces of survivors as they look at the footage, and, frequently, unnecessary voiceover, detracts from the grotesque reality of what was shot in 1942. Although she graduated from the famed Sam Spiegel Film and Television School in Jerusalem in 2003, Hersonski's approach resembles nothing more than a college project.
A major documentarian like Errol Morris can get away with reenactments. A talented avant-garde filmmaker like Ken Jacobs successfully slows down a film and zeros in on a particular shot as a point of departure for a larger discussion of content as well as the relationship between image and reality. Unfortunately, for all her good intentions, Hersonski does not come close to either of them.
Some of her ideas do work. The Polish voiceover of an actor playing Adam Czernickov, leader of the Judenrat, or Jewish council, does serve a purpose, for Czernickov maintained a diary documenting the same events and activities that are in the Nazi footage.
Yet the performed testimony of German cameraman Willy Wist is all wrong, especially as a climax for a film about the doomed residents of "the ghetto". Which, by the way, was the label on the footage when it was found buried in the German Federal Film archive.
To sign up for Screen's weekly Reviews Newsletter with all the week's new releases, international openings and full festival reviews delivered free to your mailbox every Friday, please click HERE
Production companies
Belfilms
International sales
Cinephil
(972) 3 5664129
Producers
Noemi Schory
Itay Ken-Tor
Cinematography
Itai Neeman
Editor
Joelle Alexis
Music
Ishai Adar