Dutch filmmaker Guido Hendrikx silently films the residents of a small town to surprising reactions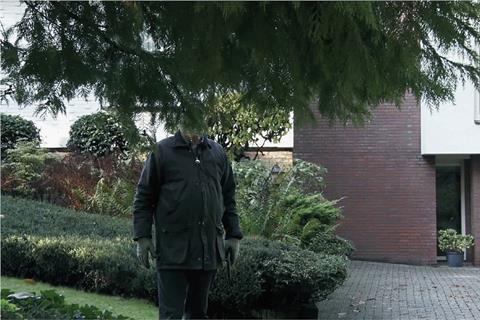 Dir: Guido Hendrikx. Netherlands. 2020. 64 mins.
A deceptively simple title conceals a playful experiment of a film in A Man And A Camera. Guido Hendrikx boldly spins a clever premise into an intriguing, unsettling reflection on documentary filmmaking, co-operation, complicity, human nature and the power of silence. Audiences should be tickled by an enigmatic work that seems tailor-made to provide a festival talking point.
This could be the most genteel home-invasion story ever told
Almost a century after pioneering Soviet documentarian Dziga Vertov, Hendrikx is quite literally a man with a movie camera as he wanders the streets of an unnamed Dutch backwater. We never see Hendrikx beyond a shadow cast on a pavement or a reflection in a window. He never speaks and we only witness what his camera captures. Initialy, he seems to follow where curiosity and a short attention span lead. We see pavements and tarmac, a pony in a field, a cat on the prowl, a man in his garden. When humans enter the picture, they often ask, "What is the meaning of this?" Audiences are in a similar position.
A Man And A Camera feels a little as if an alien has landed on the planet and is now quietly taking in the surroundings and the human population. There are echoes of Under The Skin (2013) or Peeping Tom (1959). His silence is sinister, his intentions unknown. Could he be some malign presence? The audience is left to draw their own conclusions as Hendrikx is giving nothing away.
The film finds its groove when Henrikx ups the stakes and starts to ring doorbells. Those who answer are faced with a man with a camera who says nothing. Reactions range from bewilderment to belligerence. Some people feel threatened, others are amused and there is a good deal of entertainment in waiting to discover where this might be heading.You also ponder when someone will call the police or clobber him. You don't have to wait long for the answer.
One of the most intriguing elements of A Man And A Camera is the way people start to provide Hendrikx with the content of his film. Their reactions dictate the way forward for what starts to feel like filmmaking without a safety net. There is a quite astonishing level of hospitality and trust on display. "It seems he isn't allowed to talk," concludes one understanding stranger.
Hostility and suspicion are far outweighed by the kindness of strangers and those who bid him welcome, offer him a cookie and even invite him into their houses. This could be the most genteel home-invasion story ever told as coffee is offered, questions are asked of him and sometimes confessions are made. The mute, unresponsive presence of Hendrikx and his camera seems to relax some people and invite confidences. Is the human instinct for connection so irresistible that everything else is so readily set aside?
A Man And A Camera has that compelling quality of wanting to know what happens next and how far this might go. It never reaches any grand conclusions or offers explanations, ending on Leonard Cohen's lugubrious melancholy rendition of 'Going Home'. In its brief running time it journeys from unease to reassurance, wariness to welcome, leaving the audience under a strangely comforting spell and with a considerable amount of food for thought.
Production companies: Aventura, [boondocs]
International sales: Square Eyes info@squareeyesfilm.com
Producers: Jasper Boon, Wouter Jansen, Ena Sendijarevic, Guido Hendrikx
CInematography: Guido Hendrikx
Editing: Rens Christiaansen, Lot Rossmark, Guido Hendrikx
Music: Jeanne Susin