Dir/scr: Fernando Leon de Aranoa. Spain. 2015. 105 mins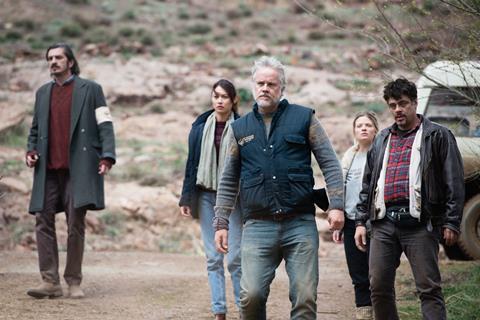 It's M.A.S.H. in Bosnia – with aid workers. Spanish director Fernando Leon de Aranoa (Mondays in the Sun) doesn't take quite such a desecratory line as that evergreen Altman classic, but he does aim some refreshing potshots at a few taboos in his English-language debut featuring Benicio del Toro and Tim Robbins in a sparky double act.
This is basically a shaggy-dog story about hope and failure, about the attempt to fix a small leak when the whole dam looks ready to burst
A Perfect Day isn't perfect – the comic one-liners, the critique of the UN protection force's procedure-bound bureaucracy, and the tragedy-of-war sentiment sometimes make for a bumpy tonal ride. But the humanity of the enterprise, hovering between sympathy and ironic detachment, keeps the script on course, delivering a story that for all its motley-band-of-brothers clichés feels as authentic as many more pious takes on the Bosnian conflict.
Del Toro and Robbins as two veteran field aid workers will do a lot to boost the commercial prospects of a film which nevertheless will need to be carefully pitched to potential audiences to avoid the turn-off factor of the phrase 'Bosnian war comedy'. A Perfect Day could equally well have been set in central Africa, or New Guinea, or Haiti: it's about the misunderstandings, the bureaucracy and the relationships that have a habit of complicating the supposedly simple act of trying to do good.
Set "somewhere in the Balkans" in 1995, the film opens with a shot that will recur as a kind of metaphoric touchstone throughout: up from the bottom of a dark well into the light. The water has been contaminated deliberately with a corpulent corpse, and Benicio del Toro's war-weathered character Mambru is trying to get it out.
He's in charge of the field unit of a fictional NGO called 'Aid Across Borders' which also includes wisecracking B (Robbins), another aid vet who unlike Mambru has no partner waiting at home, and who seems to thrive on the adrenalin of war zones (hence the loud guitar rock he plays on the car radio). Also part of the unit is fresh recruit Sophie (Thierry), who like all newbies wants to do things by the book, deadpan local interpreter Damir (Stukan) and stern but glamorous Katya (Kurylenko), a 'conflict evaluator' who may or may not have been sent to close the unit down, and who hasn't seen Mambru since they both had an affair and she told his girlfriend about it. A local kid, Nikola, also becomes a passenger on the NGO's two-jeep convoy when Mambru saves him from a gang of bullies.
The task-of-Sysiphus plot structure, as attempts to get 'fatso' out of the well are repeatedly stymied, becomes an ideal container for a tale about dogged, unglamorous heroism – for this is basically a shaggy-dog story about hope and failure, about the attempt to fix a small leak when the whole dam looks ready to burst. Set in a landscape of arid mountain scrub with snow-capped peaks beyond, the film uses aerial shots as a distancing device, depicting the unit's scurries across the territory from the point of view of an ironic deity. Some of the comedy – especially the sparring between Katya and Mambru – is a little laboured, but other moments (like one involving a booby-trapped cow carcass) are managed with a sure instinct for timing, something reflected in the high laugh-count at the film's Director's Fortnight press screening at Cannes.
Production companies: Reposado, Mediapro
International sales: WestEnd Film, nadine@westendfilms.com
Producers: Fernando Leon de Aranoa, Jaume Roures
Cinematography: Alex Catalan
Editor: Nacho Ruiz Capillas
Production designer: Cesar Maccaron
Music: Arnau Bataller
Main cast: Benicio del Toro, Tim Robbins, Olga Kurylenko, Melanie Thierry, Fedja Stukan