A man and a woman attempt to overcome their pasts to build a new life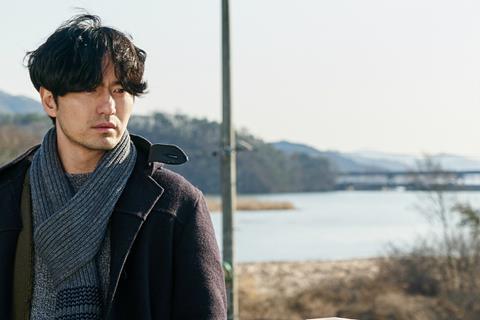 Dir/scr: Lee Kwang-kuk. South Korea. 2017. 107mins
The latest film from Lee Kwang-kuk, the filmmaker behind such films as Romance Joe and A Matter Of Interpretation, once again sees the director return to the theme of creative inertia, as he follows the fortunes of two writers for whom life has stolen their muse.
An element of hope and humour stops everything becoming an exercise in grim realism
Receiving its world premiere at Busan, A Tiger In Winter will probably find a welcome home on the festival circuit, with Lee's previous films having achieved a large measure of success at the likes of Rotterdam and London.
Gyeong-yu (Lee Jin-uk) is thrown out of his girlfriend's place for the weekend so that she doesn't have to reveal his presence to her visiting parents. When he swings by unannounced, however, it becomes apparent that he was being lied to; his (now ex-) girlfriend has sold up and disappeared.
Now forced to take stock of his life, Gyeong-you finds himself unfulfilled as he ekes out a living as a designated driver for hire. On one job he meets former lover Yoo-jung (Ko Hyun-Joung) and they find themselves drawn to each other once again. But can they be happy with each other when their own lives are empty?
Lee's film is a delicate and fragile character study, in which disappointment and ambition go hand in hand. Gyeong-yu is revealed to be a former writer who gave it all up and is now put upon by the world – humiliated by his ex and cheated by ungrateful customers, he also finds himself unable to perform in the bedroom. Unable to find inspiration to write the follow-up to her successful debut novel, Yoo-jung drinks too much and struggles with the idea of living up to her own success. Even as they try to rekindle their past, the disappointments of the presents weigh much too heavily upon them.
While there is a faint line of the absurd running through the film – with an ever present threat of a tiger that has escaped from the zoo – this is mostly played straight. Lee Jin-uk and Ko Hyun-Joung give understated performances in which their fears and insecurities all simmer below the surface. But for all their fractures, they play their characters with an element of hope and humour that stops everything becoming an exercise in grim realism.
Kim Hyung-koo's cinematography is as brittle as the characters themselves, as the cold South Korean winter is complimented by muted colours and grey skies.
Production company: A Byeokdol Films
International Sales: M-Line Distribution, jamie@mline-distribution.com
Producers: An Bo-young, Lee Kwang-kuk
Cinematography: Kim Hyung-koo
Editor: Son Yeon-ji
Music: Yeon Ri-mok
Main cast: Lee Jin-uk, Ko Hyun-Joung