An introverted graduate student may be involved in the death of his research partner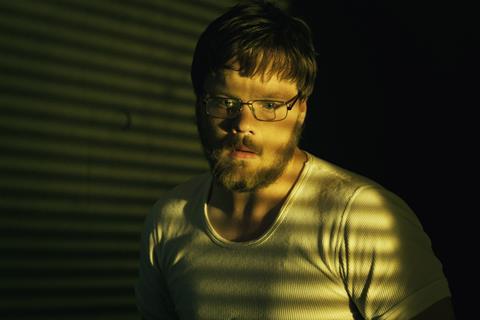 Dir: Linus de Paoli. Germany. 2018. 85mins
In theory, the timing couldn't be better for a film which aims to cast light both on the malaises of the internet age and on the sexual uncertainties of men who have no idea how to interact with women. Unfortunately, English-language German drama A Young Man With High Potential never matches up to either challenge. Linus de Paoli's chamber drama — a follow-up to his 2011 Berlin-set debut Dr Ketel — starts off as a sympathetic and uncomfortable character study, takes a dark psychosexual turn and then spins off into queasy grand guignol farce. Exposure-wise, the potential may be limited.
A major problem is that the film doesn't plausibly establish its fictional world
The titular protagonist is Piet (Danish actor Adam Ild Rohweder), a brilliant graduate student in informatics at the fictional Bauer University. At the start of the film, he gets a visit from Ketura (Amanda Plummer), a detective who wants to tie up some loose ends about the death of Piet's research partner Klara (Paulina Galazka). A flashback shows Piet as an overweight, introspective boffin who prefers to work alone, and nervously shies away from an approach from attractive, personable researcher Klara, who's keen to work with him on a project. But he cautiously agrees, and finds himself increasingly drawn to her, especially as she coaxes him out of his shell.
Piet even confides his ethical qualms about his project with Klara – involving a fail-safe method of invisible hacking – and they eventually share a joint and relax to 70s-style lovers-rock reggae. Piet ends up thinking that Klara is attracted to him, but when she gently rebuffs him, he can't handle it. In an awkward dramatic shift, things quickly turn unpleasant – sexually at first, then brutally, as the film shifts into a gruesome vein for which it hasn't prepared us. Then things turn borderline farcical, in a black comic manner that writer-director de Paoli isn't quite able to carry off.
A major problem is that the film doesn't plausibly establish its fictional world. The uncertainly-located campus setting is populated by English-speaking characters with a variety of accents – Rohweder is Danish, Galazka Polish – but serviced by a North American-accented sushi delivery guy. Some of this vagueness is at least offset by elegant work from DoP Luciano Cervio, whose crisp, clean approach gives the university precinct a steel-and-glass chill, and lends the overall visuals an ominous touch of detached cool.
Not least, the drama is compromised by uneven acting. Galazka is decisively out of her depth in English, giving some very eccentric line readings, and the best performance comes from Laurence Roothooft, glimpsed on Piet's laptop screen as an internet sex worker who shows concern for his well-being. In her star cameo, Amanda Plummer brings ambivalent inquisitorial menace, despite being oddly kitted out in raincoat and shades so that she looks unsettlingly like a Patti Smith tribute act.
Rohweder is uneven in the lead, warming up personably in the intimate moments of empathy between Piet and Klara – but somewhat stranded when the film requires him to embody that readymade figure, the artless woman-fearing dweeb. It's a social type that could use some insightful unpacking, but this isn't the film to do it.
Production companies: Schattenkante, Hahn Film
International sales: Raven Banner Entertainment, sales@ravenbanner.ca
Producers: Anna de Paolo, Gerhard Hahn, Linus de Paoli
Screenplay: Linus de Paoli
Cinematography: Luciano Cervio
Editor: Linus de Paoli, Sebastian Lempe
Production design: Max Eichenlaub
Music: Felix Raffel
Main cast: Adam Ild Rohweder, Paulina Galazka, Amanda Plummer, Vanja Bajdarova, Pit Bukowski