A girl's best friend is her Yeti in this flat DreamWorks animation set in China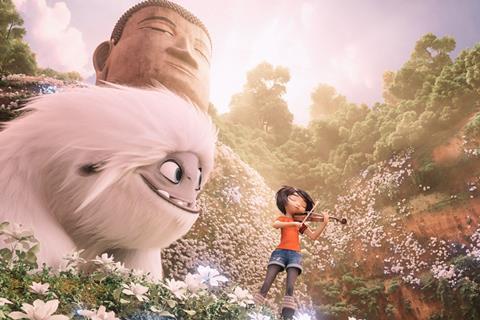 Dir/scr: Jill Culton. US. 2019. 97mins
In Abominable, a teenager and her Yeti are both trying to find home, but unfortunately this sweet but derivative animated film never manages to stake out its own territory. Despite its Chinese setting and characters, the movie doesn't feel appreciably different from so many other previous tales of lost young people who learn friendship through a pet or extra-terrestrial, and the story's broad humour and pedestrian plotting don't add much to this perfunctory fable.
This is a journey with little sense of wonder
Set for release in the US on September 27 and the UK on October 11, this DreamWorks Animation offering (made in conjunction with China's Pearl Studio) doesn't have the benefit of built-in brand recognition, although it will be the only family film in the marketplace until the arrival of The Addams Family. Mixed reviews won't help the cause, but parents with younger kids may deem Abominable a perfectly acceptable theatrical prospect.
Yi (voiced by Chloe Bennet) is a moody teenage girl living with her mother and grandmother who discovers that a Yeti is hiding out on the roof of her apartment building. Shocked that the mystical creature actually exists, she decides — alongside her self-consciously cool friend Jin (voiced by Tenzing Norgay Trainor) and his nerdy cousin Peng (voiced by Albert Tsai) — to help him reach the Himalayas, which he believes is his home.
Writer-director Jill Culton (Open Season) has conceived this Yeti, whom Yi calls Everest, as a non-talking gentle giant with adorable eyes, expressive whimpers and a surprising penchant for magic. Early on in Abominable, it becomes fairly obvious that, while Yi is accompanying Everest so he can get to where he belongs, she is simultaneously undertaking a metaphorical journey to find her place in the world. To be sure, this quest can be emotional — we'll uncover more about Yi's absent father and her complicated feelings about her mother — but Culton's script tends toward the sentimental and the obvious, probably appealing more to kids than teens or older viewers.
Predictably, there are evil forces chasing after Everest in the form of Burnish (voiced by Eddie Izzard), a diabolical entrepreneur who owns a facility that had been experimenting on the Yeti before he escaped. This, too, is pretty de rigueur for this sort of action-adventure family film, and although Izzard has some droll comic moments, the character's pursuit of our heroes is only intermittently thrilling.
Abominable's two strongest elements are its animation style, which really takes flight once Yi and her friends leave the city behind and delve into China's gorgeous mountain ranges, and Rupert Gregson-Williams' score — particularly its violin passages. Yi is connected to her father through their shared love of the instrument, and the character's playing proves both cathartic and dynamic, giving Abominable a grace and sophistication it otherwise lacks.
In an age when there's no shortage of beautiful-looking animated films — whether hand-drawn, stop-motion or computer-generated — it can be easy to take Abominable's sweeping vistas and sparkling colours for granted. But, by the same token, such surfeit of visual beauty requires storytelling that is comparably bold. Yi will discover that Everest has incredible powers — although, conveniently, they only seem to occur when the script necessitates that he use them — but only rarely is the movie similarly magical. This is a journey with little sense of wonder.
Co-director: Todd Wilderman
Production companies: DreamWorks Animation, Pearl Studio
Worldwide distributor: Universal Pictures
Producers: Suzanne Buirgy, Peilin Chou
Production design: Max Boas
Editing: Pamela Ziegenhagen
Music: Rupert Gregson-Williams
Main voice cast: Chloe Bennet, Tenzing Norgay Trainor, Albert Tsai, Eddie Izzard, Sarah Paulson, Tsai Chin, Michelle Wong