Dir. Terry Jones. UK, 2015, 86 mins.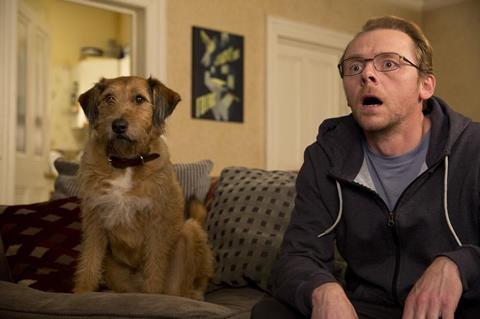 It is a sorry footnote to Robin Williams' career that his final screen credit is voicing Dennis the Dog in Terry Jones' depressingly inept comedy Absolutely Anything, starring Simon Pegg, Kate Beckinsale and also featuring the voices of Jones' old Monty Python pals.
Absolutely Anything's schoolboy humour becomes increasingly desperate; as embarrassingly needy as Dennis the Dog, and not half as attractive.
While it's sad to see such sparkling names sprinkled across a dismally thin film – add Joanna Lumley, Eddie Izzard and Sanjeev Bhaskar to the mix to get an idea of the talent squandered – it's also infuriating that the prospect of Jones dusting off a tired old script can raise talent, finance and distribution so unquestioningly while so many other British film-makers struggle through endless hurdles. If it's absolutely anything, this film is perhaps a call for the old guard to fall back and make way for the new.
Going out in the UK through Lionsgate in the mid-August slough, Absolutely Anything should barely touch the back of British cinemas before vanishing to ancillary where it will attract Python devotees only – Williams fans may find the experience a depressing send-off and the post-credits clips of the comedian feel almost exploitative. Despite his charm, this is not a gurning Simon Pegg's finest hour either, and with this, Mission Impossible: Rogue Nation, Man Up and the Star Wars juggernaut in as many months, he may be over-egging the Pegg.
The press notes claim that Jones (Erik the Viking), inspired by a HG Wells short story in which an ordinary man is given absolute power to do everything he wants, came up with the concept for Absolutely Anything "many years ago". Perhaps back then it felt fresh and original; as co-written by Gavin Scott and produced by Terry's son Bill Jones with Ben Timlett, it ends up being the type of film in which a man who has absolute power to change the world instructs a walking dog turd to flush itself down the toilet.
Classified 12A in the UK, Absolutely Anything draws heavily on Hitchhiker's Guide to the Galaxy-style lore crossed with Pythonesque touches to present a quintet of Intergalactic Council monster-rulers in deep space (voiced by John Cleese, Terry Gilliam, Eric Idle, Michael Palin and Jones) who randomly happen upon everyday schoolteacher Neil (Pegg) and decide his actions will determine the future of the planet.
The fearsome Council, who live in a deep-space jellyfish Portuguese Man O'War and use a faulty language translator which results in them Pythonesquely calling each other Sharon, Janet and Maureen, give Neil the ability to do anything he wants and wait and see whether he will attempt to do something worthwhile and help mankind. Because if he doesn't, they'll destroy the world.
Initially, Simon asks for the annihilation of his disruptive class 10C, gives his dog Dennis a voice (Robin Williams), and attempts to make his frozen-faced downstairs neighbour Catherine (Beckinsale) fall in love with him.
There are a few funny lines. English-teacher Neil realises he has to be specific with his requests (asking for the body of a great man results in Albert Einstein, for example). Neil also wants a penis that women find exciting, and then asks 'can I have it in white?' But Absolutely Anything's schoolboy humour becomes increasingly desperate across the film's skimpy 86-minute running time, winding up with British policemen in pink uniforms and men marching around in webbed duck feet. It's all as embarrassingly needy as Dennis the Dog, and not half as attractive.
Technically, the school-room settings have an authentic feeling, lending initial hope that Absolutely Anything may be end up being a Nativity-level Brit-com; they're soon dashed, however, with telly-sitcom sets, poor continuity and vaguely watchable deep-space CGI. Undoubtedly, this film is a sad footnote to Robin Williams' brilliant career, but it may perhaps serve to give others involved pause for thought.
Production company: Bill & Ben Productions
International sales: GFM Films, general@gfmfilms.co.uk
Producers: Ben Timlett, Bill Jones
Executive producers: Mike Medavoy, Chris Chesser, Ben White, Mark Sandell, Edward Simons, Kent Walwin, Dean Goldberg, David Rogers, Jason Garrett, Jeremy Martell
Screenplay: Terry Jones, Gavin Scott
Cinematography: Peter Hannan
Production design: James Acheson
Editor: Julian Rodd
Main cast: Simon Pegg, Kate Beckinsale, Sanjeev Bhaskar, Rob Riggle, Eddie Izzard, Joanna Lumley. Voice cast includes John Cleese, Eric Idle, Michael Palin, Terry Gilliam, Terry Jones and Robin Williams