A daughter tries to piece together a childhood trip to Turkey with her father in Charlotte Wells' promising debut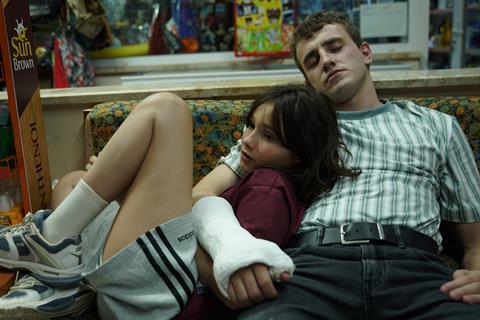 Dir/scr. Charlotte Wells. UK/US. 2022. 98 mins.
Childhood memories of a holiday to Turkey float to the surface in Scottish director Charlotte Wells' unusual and ambitious Aftersun, but there's a dark well of grief at the core of this poignant meditation. Wells, who has studied and worked between her home and the US — Adele Romanski and Barry Jenkins are amongst Aftersun's producers – hits a vein, and, occasionally, an artery, in her story of a troubled father and his uncomprehending 11 year-old daughter on a package-holiday resort at the tail end of the summer school break.
Marks Wells out as one of the most promising new voices in British cinema in recent years
While attention, fairly, will go to the work's visual and tonal acuity, Wells' measured but relentless probing, her careful peeling away of the layers of this intimate piece, mark her out as one of the most promising new voices in British cinema in recent years. She also draws an impressive performance from Paul Mescal in the central role, confirming the Irish actor's abilities on a highly-challenging framework.
Those looking for flaws will find them – it's fairly clear the film struggles to balance the slighter, essay-ish early chapters and the darkness which ultimately swallows up the sunshine - but after its debut at Cannes Critics' Week, Aftersun should travel widely on the festival circuit and enjoy exposure and esteem wherever artistic endeavours are appreciated (at home, this should translate to a prestige, if small, theatrical release and some awards notice, for Wells as well as Mescal). Equally intriguing though, is the idea of Wells' future in UK, and particularly Scottish, cinema: you have to go back to Lynn Ramsay to find a voice with this much potential.
On its own, without the weight of future expectations dragging it to the bottom of the swimming pool, Aftersun is a serious attempt to wrestle with the core unknowns of family: the unaware child, the loving but troubled father, and the patterns which repeat. Like Sophie (sparkling newcomer Frankie Corio), the audience is forced to scavenge for hints as to what is really going on, although we have a better chance of understanding Wells' hints than this small girl on the brink of adolescence. The figure of a present-day Sophie watches over this piece, as VCR footage spins back in time and splinters into the narrative. We're in Turkey, sometime in the 1990s, and Mescal's single father Calum has brought Sophie on a package break to spend time together (it's not a high-end resort, and they're not comfortable enough to afford the all-inclusive deal).
As evidenced by phone conversations, he maintains a loving relationship with Sophie's mother. Affectionate though he may be, Calum is clearly far too young to be a father. He loves her, and he's doing his best but Calum is struggling – injuries he can't remember, moments of darkness which go unexplained. Wells uses varied footage as if it was a jigsaw in our eternal quest to piece together the past. Perhaps this time the interlocking use of colour and texture and format will deliver the truth; if the audience, like Sophie, nudges and stitches and looks hard enough, all will be revealed. The past, though, is always elusive.
Initially, Aftersun risks being categorised as a sort of textured essay, an extended short of the type which tend to act as soft filler for festivals as a child observes the adults around her on a rites-of-passage break. Wells perhaps looks too carefully for her shots, for the visual poetry, when it's the emotional tapestry which marks this piece out and sees it grow in strength to something more visceral, more disturbing. In this search, she is aided greatly by Mescal, who delivers a powerful performance in a series of shards. He's not Scottish, and his physicality perhaps is too strong for a creature of the time, but there are no doubts in his performance, and its dark depths shade Aftersun into something stronger.
Music by Oliver Coates is astutely judged, restrained in its emotion, like all the technical credits here, from clever production design and costuming, and light and shade from DoP Gregory One to match the characters as they flit through the past looking for their answers.
Production companies: Pastel, Unified Theory, Cinetic
International sales: Charades, sales@charades.eu
Producers: Adele Romanski, Amy Jackson, Barry Jenkins, Mark Ceryak
Cinematography: Gregory Oke
Production design: Billur Turan
Editing: Blair McClendon
Music: Oliver Coates
Main cast: Paul Mescal, Frankie Corio, Celia Rowlson-Hall