A blistering performance anchors this meticulous and powerful debut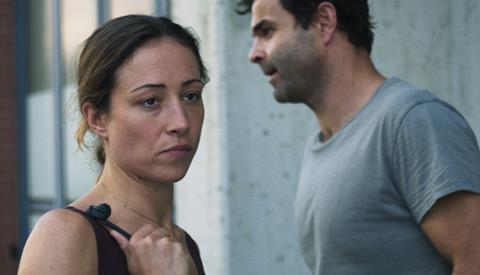 Dir. Eva Trobisch. Germany. 2018. 90 mins
According to Janne (Aenne Schwarz), if you don't see things as a problem, then you don't have one. Even if that problem is rape. This highly accomplished first feature from Eva Trobisch finds nuance and complexity in a subject which tends to lend itself to extreme depictions; it's an arresting and candid portrait of a woman whose weakness is her refusal to see herself as a victim.
Aenne Schwarz's performance is meticulously observed and wholly persuasive
Following its premiere in Munich, this superbly acted picture should go on to provoke debate in further film festival berths. And while thematically it might be a tough sell, the film's quality across the board should mean that it will be of interest to both distributors and VOD platforms on the lookout for distinctive new voices. If nothing else, the film should serve as launchpad for both writer/director Trobisch and for Schwarz, the film's phenomenal star.
All Good (Alles Gut) dips us into the lives of Janne and her boyfriend Piet (Andreas Döhler) with an unassuming naturalism which belies the attention to detail of Trobisch's storytelling. Their's is an easy companionship, the silences between them are comfortable as they work together to strip wallpaper from their renovation project. There's lovely, revealing scene early on when he presents her with a salvaged piano. It sounds as though it has been tuned with hammers, but Janne's eyes flash even as she denies that she's thrilled.
The pair find themselves in this ramshackle house, it becomes clear, after the publishing business they built together went bankrupt. A meeting with an insolvency lawyer is swiftly followed by a reunion party where Janne decides to blot out the competitive small talk by getting drunk. Her boozing partner for the evening is gauche, bespectacled Martin (Hans Löw, most recently seen in the Cannes title In My Room). There's a frisson of flirtation to the schnapps-fuelled hilarity, and when Janne offers Martin a sofa to sleep on for the night, he assumes that she plans to join him. He turns gracelessly petulant when she fends him off and then, either misreading her clear message or choosing to ignore it, forces himself on her. "Are you serious?" is Janne's incredulous only comment when she realises his intention.
The following day, having tested the water with a partial, back-pedalled revelation to her mother, Janne makes the decision to hunker down, using her self-possession like armour and act as though all is good. The intention is strained however, when she decides to take a publishing job with Robert, the brother-in-law of her attacker. Unflappable to his face, Schwarz vocalises Janne's discomfort following a surprise encounter with Martin with a gasping little moan as soon as she's alone. Meanwhile, a distance opens in her relationship with her boyfriend, who would have prefered she hadn't taken the job.
Trobisch's approach is resolutely unfussy, with no added score and inobtrusive sound design. The photography is fluid without drawing attention to itself; it is very much in service of the precise and perceptive screenplay and – most of all – the performances. These are uniformly strong, but Schwarz's is the motor which drives the picture. It's meticulously observed and wholly persuasive. Self-contained to a fault, there's a wrenching moment when, failing to reach her mother on the phone, Janne unconsciously strokes her own hair in an attempt to provide the missing maternal comfort. And an open-ended final scene is perfectly modulated: she stubbornly digs her heels in to the last, even as the threads of her life are clearly unravelling.
Production company: TRIMAFILM GmbH
Contact: david@trimafilm.de
Producers: Trini Götze, David Armati Lechner
Screenplay: Eva Trobisch
Production Design: Renate Schmaderer
Editing: Kai Minierski
Cinematography: Julian Krubasik
Main cast: Aenne Schwarz, Andreas Döhler, Hans Löw, Tilo Nest, Lina Wendel