Dakota Johnson is appealing in this gentle 30-something coming-of-age comedy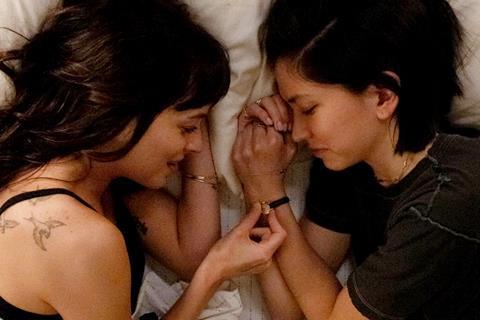 Dirs: Stephanie Allynne & Tig Notaro. US. 2021. 86mins.
In Am I OK?, a rudderless woman in her early 30s must contend with both the imminent departure of her best friend and the gradual realisation that she might be gay. The likeable feature debut of directors Stephanie Allynne and Tig Notaro is boosted by the warm chemistry between its leads, who navigate this later-in-life coming-of-age story with considerable charm. Even so, the flimsy narrative is undone by some frustratingly inorganic plot twists and a generally slack execution.
Allynne and Notaro have crafted a slice-of-life tale about friendship and becoming comfortable in one's skin
Included in Sundance's Premieres section, Am I OK? stars Dakota Johnson, who will give this low-key comedy extra visibility, as will the involvement of Will Ferrell's Gloria Sanchez Productions, which recently backed the cult favourite Barb And Star Go To Vista Del Mar. Am I OK? is less of a raucous, wacky affair, though, requiring audiences to get on its gentle wavelength.
Lucy (Johnson) is a 32 year-old Angeleno who works as a receptionist at a luxury spa, having long ago given up on her dream to be a painter. Her one constant comfort is her close friend Jane (Sonoya Mizuno), who drops a bombshell: she's getting a promotion and will be moving to London in six months. Lucy tries to be happy for Jane, but she's sad to see her go. Plus, Lucy has her own news: for quite some time, she has been attracted to women but is been afraid to say anything. Jane, who has a longterm boyfriend, Danny (Jermaine Fowler), makes it her mission to help Lucy embrace her homosexuality, encouraging her to ask out the flirty masseuse Brittany (Kiersey Clemons).
Working from Lauren Pomerantz's screenplay, Allynne and Notaro have crafted a slice-of-life tale about friendship and becoming comfortable in one's skin. There's a breeziness to the storytelling, which is embodied by Johnson and Mizuno's easy rapport. Lucy and Jane come across as people who have known each other forever, loving each other's annoying tics as much as their more appealing qualities. The organised, driven Jane has often encouraged her buddy to break out of her inertia, and now that she's about to move, is determined to find Lucy a great romantic partner — despite Lucy's protestations that she's not sure if she's ready.
Johnson, whose characters often exude a sophisticated edginess, plays Lucy as a bit of a mess, somebody who lacks confidence and seems resigned to just drift through the day. But the actress hints at the deep longing within Lucy for something more satisfying, and we begin to pick up on Lucy's annoyance with Jane, who sees herself as the person who needs to fix her friend. When Lucy cautiously begins to court Brittany, Johnson and Clemons display a sexy spark that makes clear the instant attraction between them. The only concern is whether Lucy can get over her self-consciousness — as well as her embarrassment that she feels that she should have known her sexuality by a much younger age.
This element of Am I OK? is among its most intriguing: Lucy feels considerable shame around finally admitting her sexual preference, and she's not sure if she can trust her instincts or even how to act on her feelings. The film approaches this dilemma not with broad comedy but, rather, modest observations. As a result, Am I OK? generates smiles more than laughs, leaning on the audience's empathy for these characters; all of whom are undergoing important life changes.
Because the picture is such a delicate tonal balancing act, the missteps that happen throughout are more pronounced. Some forced narrative conflict between Lucy and Jane seems to run counter to what we know about their friendship, while later plot complications feel unearned. (In addition, one supporting performance is dialled up too high, straining to be Am I OK?'s zany comic relief.) Allynne and Notaro's film is suffused with sweetness, but the slim, conventional story keeps the directors and their capable cast from really exploring the bonds that connect people, whether as friends or lovers. It's an OK debut that, like Lucy herself, struggles a bit to find its footing.
Production companies: Picturestart, Gloria Sanchez Productions
International sales: UTA, jessica.kantor@unitedtalent.com and RoyerG@unitedtalent.com
Producers: Jessica Elbaum, Will Ferrell, Erik Feig, Lucy Kitada, Dakota Johnson, Ro Donnelly, Stephanie Allynne, Tig Notaro, Lauren Pomerantz
Screenplay: Lauren Pomerantz
Production design: Christopher L. Brown
Editing: Kayla M. Emter, Glen Scantlebury
Cinematography: Cristina Dunlap
Music: St. Vincent
Main cast: Dakota Johnson, Sonoya Mizuno, Jermaine Fowler, Kiersey Clemons, Molly Gordon, Sean Hayes, Tig Notaro