Radicals on the run drive a smart, low-key drama based on the real-life 1970s kidnapping of Patty Hearst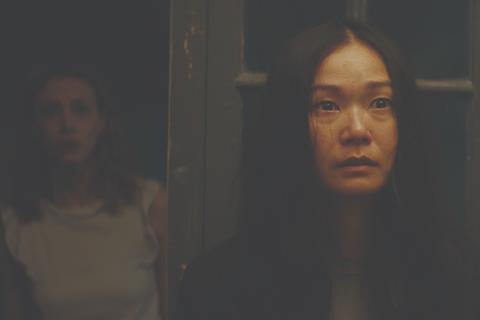 Dir/scr: Semi Chellas. Canada. 2019. 85mins
It was a time when America was roiled by extremes, as a hated president clung to power, an unwinnable war dragged on, violence exploded in the streets, terrorism turned into entertainment – and audiences in the 1970s crowded around their TVs to watch it all. Yet nothing was made more for melodrama than the mid-'70s kidnapping, and radicalization, of American heiress Patty Hearst.
The script's stubborn intelligence establishes Jenny as a real person and sees the radical movement through her eyes
Now it returns in fictional form in American Woman, a Tribeca premiere that imagines an alternate life for the rich young girl on the run. Clear-eyed and sharply written, it feels like a natural fit for the small screen, although it may be too quiet to make much of an impact on theatrical markets.
A first-time feature from long-time producer Semi Chellas, based on a novel by Susan Choi, it tells its story from the point of view of Jenny (Hong Chau), a genuine radical who once blew up a draft board office. Except it's now 1975 and she's been living deep underground for years, working as a paid companion to a crotchety old lady in upstate New York.
Then she's approached by a comrade from her past, and asked to take on one more job – play nursemaid to two revolutionaries and their rich, recently converted-to-the-cause hostage, Pauline (Sarah Gadon). The FBI is on their trail. Can Jenny keep them safe and supplied with cheap wine and good vibes – at least long enough for them to write a potentially best-selling manifesto? She agrees, although it's clearly a ridiculous plan – shouldn't these budding authors flee the country first? And the trio's leader, a cocky poser named Juan (John Gallagher Jr.), is even more absurd. But Jenny has a problem; she's already fallen for Pauline.
In many ways, the story sticks to the real-life events (Jenny is clearly a stand-in for one-time radical Wendy Yoshimura) but diverges in one important way; the romantic attraction between Jenny and Pauline, which is as painfully discreet as anything from an early `90s lesbian movie). What's constant, though, is the script's stubborn intelligence. It not only establishes Jenny as a real person, a bright Asian-American scarred by the country's racism, it also sees the radical movement through her eyes. Jenny believes in the cause. But why does the Left always seem to be led by such men as the sexist, racist, pontificating Juan, who knocks around Pauline and his own white girlfriend, while fetishizing Jenny because of her authentic "Third World" experience. ("I'm from California," she drily informs him.)
Hong Chau, best known perhaps from 2017's Downsizing, plays Jenny with just the right amount of barely controlled impatience; it's not easy always being the smartest person in the room, especially when the other people are wondering if they should just skyjack a plane. Cool, capable, she's a creature of logic – there's a reason why her old job in the movement was making bombs – which is exactly why she's so undone by Gadon's ditzy Pauline. Jenny is used to taking care of herself. But suddenly she sees someone who needs taking care of, and the icy all-power-to-the-people revolutionary just… melts.
Chellas' equally smart movie, though, remains contained. It's not just the sex the filmmaker keeps offscreen; it's the violence, too. (Although Juan does manage to pull off one crime, we only see the disastrous, bloody aftermath.) Instead, the movie unfolds in a quiet parade of deft dialogue and slowly deepening characters: Jenny's cranky boss (a welcome appearance by Ellen Burstyn); a politically conscious but practically useless academic; a dogged FBI man on the case. It's all smart and sharply observed.
Admitted, it may not all add up to a prescription for wide commercial success; a few bigger stars in the cast would have helped, as may have one high-stakes action scene. But it does form the framework for a provocative look back at a different time – and perhaps provide the basis for a serious discussion on just how, and why, it turned into ours.
Production companies: AW Canada Films, Killer Films
Worldwide sales: Cinetic Media sales@cineticmedia.com
Producer: Christina Piovesan
Production design: Zazu Myers
Editing: Lindsay Allikas
Cinematography: Gregory Middleton
Music: Lesley Barber
Main cast: Hong Chau, Sarah Gadon, John Gallagher Jr., Ellen Burstyn