Francis Lee follows up 'God's Own Country' with a solemn love story sparked by Kate Winslet and Saoirse Ronan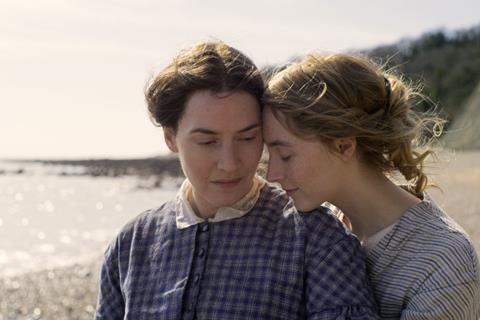 Dir/scr: Francis Lee. UK. 2020. 117 mins.
British writer/director Francis Lee, so admired for his debut God's Own Country, continues his journey across his native country and the people who eke out a living – and find a loving – on the land in the sympathetic, stripped-back period drama Ammonite, set in Lyme Regis and Dorset's Jurassic Coast of the 1840s. The pairing of Kate Winslet with Saoirse Ronan may be a world removed from the low-budget casting of Josh O'Connor and Alec Secareanu back in 2017, but the quest for authenticity in film-making and the raw emotion it can capture remains the same. A solemn story, partially inspired by a true-life character, is punctuated by a few memorable outbursts of emotion, mostly expressed in intense sexual sequences between the two leads.
A film as delicate as this should not be pushed or even nudged
Selected for Cannes, Telluride and Toronto 2020, Ammonite was picked up by Neon earlier this year (after selling out worldwide through See Saw's in-house distribution arm). In any other time, it would be a given for Winslet and Ronan to attract awards attention for their believable, intuitive performances, and Neon will attempt to capitalise on that in whatever shape recognition takes this year. It's a delight to see Winslet back with a big role, and her pairing with Ronan is quite magnetic. This sober drama, reminiscent in ways of last year's Portrait Of A Lady On Fire - albeit with fewer flames - will presumably hold out for high-end arthouse acclaim in the UK and similar territories to add to its three prestige festival selections before heading to streaming.
Little is known about Mary Anning (Winslet), a poor Dorset fossil-hunter who was responsible for many remarkable discoveries, although her name has been lost in the mists of time - she sold most of her discoveries to make ends meet at home. Lee has chiselled out a drama about this lonely and disappointed woman's tentative return to life through a friendship with the visiting Charlotte Murchison (Ronan), a rich young bride largely abandoned by her archaeologist husband Roderick (James McArdle).
Lee's attention to detail is exhaustive. Stephane Fontaine's camera, using what natural light he can, tracks a dignified but straightened existence as Mary and her rheumy-eyed mother (Gemma Jones) eke out a pretty miserable existence in their bare-bones shop on the high street. As played by Winslet, Mary Anning is earthy and confident on the seashore, her natural habitat – dirty yet content as she carves out ammonite stones and other larger finds to sell in the store. Elsewhere, though, she seems crushed by a past in which she might have hoped for more: a dead father, dead siblings, and a mother who clearly isn't long for this world either.
Intense and awkward socially, Mary has had some sort of relationship with lively local Elizabeth (Fiona Shaw), and a doctor (Secareanu) seems keen, but she doesn't know how to behave, or care much either way for the friendships they offer. When Roderick and Charlotte Murchison arrive in her shop to ask her to train him in fossil-hunting, she has little patience with either. Moreso when Roderick leaves the depressed, spindly Charlotte behind to embark on his tour of the Continent. An unlikely friendship develops between the two lonely women, and the intuitive Ronan plays against the more formal composure of Winslet to strike a real cinematic spark.
Ammonite is long for its slender narrative spine. It lives on the seafront and in the shared glances between Mary and Charlotte, but can wither around the shop as period miserabilism takes hold: Mary's mother has a habit of polishing porcelain animals, representing her dead children, and being quite ill-tempered and morose about it. Charlotte really is a breath of fresh air in this closed quarter, and it's no wonder Mary needs the space of the beautiful Dorset coast to animate this half-life she's leading at home.
Apart from some remarkable moments of female intimacy, a further note of praise should go to a finely attuned score by Volker Bertelmann and Dustin O'Halloran. A film as delicate as this should not be pushed or even nudged; the music here accompanies our characters on their life's big journey.
Production company: See Saw Films
International sales: City Cross Films, info@see-saw-films.com
Producers: Iain Canning, Emile Sherman, Fodhla Cronin O'Reilly
Screenplay: Francis Lee
Cinematography: Stephane Fontaine
Editing: Chris Wyatt
Production design: Sarah Finlay
Music: Dustin O'Halloran, Volker Bertelmann
Main cast: Kate Winslet, Saoirse Ronan, Gemma Jones, James McArdle, Alec Secareanu, Fiona Shaw