Dirs: Khushboo Ranka, Vinay Shukla. 2016. India. 95 mins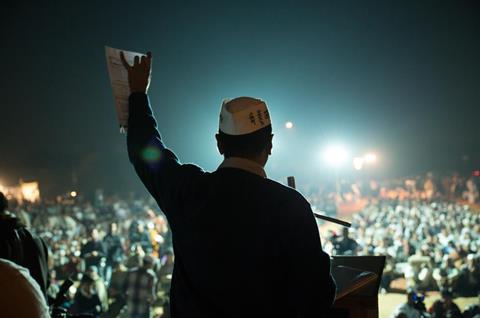 Combining exceptional access and deft editing, this documentary about the rise of India's newest parliamentary party, the Common Man's Party (AAP), and the divisive, charismatic man at its heart, makes for unexpectedly riveting viewing. Unfolding against a murky backdrop of corruption and self-interest, this story is told using the dramatic rhythms of a political thriller. And in Arvind Kejriwal, a former tax official-turned-activist-turned-politician, the film has a fascinating and complex central character.
One suspects that perhaps the access came at the expense of at least some of the journalistic impartiality
Interest in this film, which was supported by a highly successful crowdfunding campaign, will inevitably be strongest in India, where the AAP story continues to unfold. But the quality of the package and the insight provided into India's democratic process should ensure moderate audiences in other territories, both on the festival circuit – An Insignificant Man shows in Busan and London following its premiere in Toronto – and theatrically. Committed specialist distributors could find their efforts repaid, especially in territories with a sizable Indian diaspora population.
Although this represents a first documentary feature for both directors, there is an instinct for storytelling evident here. It's possible that Khushboo Ranka's previous experience – she has a writing credit on Ship Of Theseus – helped to hone her narrative skills. That film's director, Anand Gandhi, serves as a producer on this project.
But ultimately, the skill that went into structuring the project is secondary to quality of the raw material. And here, Ranka and Shukla's behind the scenes access pays dividends. The directors filmed for two years capturing the growth of the AAP as it is built, from the ground up, by a group of idealists who increasingly find themselves at odds, both with each other at times, and with members of the two established parties, Congress and the BJP.
The AAP was built on the foundations of Arvind Kejriwal's anti-corruption movement. His strong anti-corruption bill, targeted at individuals holding public office, touched a nerve with the population. But despite the grassroots support, it was blocked in parliament.
A slight, boyish figure, Kejriwal has a shy smile and, as one revealing sequence shows, a tendency to collapse into giggles. However, he also has a steeliness and impatience in his dealings with others, a quiet forcefulness which earns him a reputation as being intolerant of views which don't mesh with his own.
"Revolutionaries make great lovers, but lousy husbands," quips one established politician, and it's a dismissive view which seems prevalent throughout the other two parties. And yet, as the pressure mounts in the run up to the New Delhi elections, there are reports of violence and intimidation against AAP volunteers. And then, in a event which is all the more shocking for being juxtaposed against a scene of infectious levity, tragedy strikes, and a young AAP candidate is gravely injured in a road accident, having previously received threats from goons.
Shortly afterwards, a sting operation purports to find evidence of corruption within the AAP itself. Although it is finally revealed that the footage of the sting was edited to mislead viewers, the documentary falls short here. It doesn't fully answer questions about what actually happened and what steps were taken to deal with the problem. One suspects that perhaps the access came at the expense of at least some of the journalistic impartiality.
Production company: Memesys Culture Lab
Contact: vinay@memesyslab.com
Producers: Anand Gandhi, Khushboo Ranka, Vinay Shukla
Cinematography: Khushboo Ranka ,Vinay Shukla ,Vinay Rohira
Editors: Abhinav Tyagi, Manan Bhatt
Music: Ola Fløttum
Main cast: Arvind Kejriwal, Yogendra Yadav, Santosh Koli