Three drifting Japanese youngsters become embroiled in a love triangle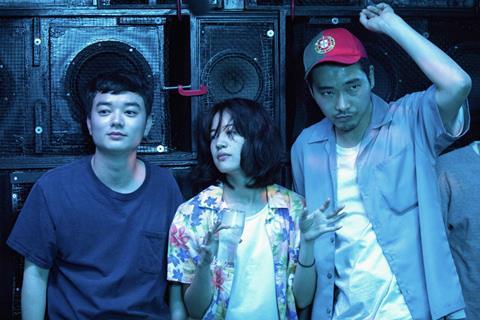 Dir: Miyake Sho. Japan. 2018. 106mins
There's a moment in the drift of young adulthood, just before real life sweeps forward, when youth seems endless and the idea of moving on almost inconceivable. The slacker narrator of And Your Bird Can Sing (Tasuku Emoto), his new girlfriend Sachiko (Shizuka Ishibashi) and his unemployed roommate Shizuo (Shota Sometani), are caught in a eddying swirl of late nights and bad decisions which, like the sprawl of late summer, is on borrowed time. Delicate, intimate and spot on in its observations of a trio of friends who are not quite as easy in each others' company as they think they are, Miyake Sho's second feature has a beguiling, if unassuming, charm.
This is a film which rewards with the cumulative power of small, glimpsed moments
This is not showy, declamatory filmmaking. And as such, it may lack the thrust which could propel it onto the international arthouse theatrical circuit. But it's a little treasure of a picture which should be snapped up by further festivals. And it marks out Miyake as an empathetic filmmaker with a gift for tapping into simultaneously dissonant moods: in this case, a creeping sadness adds a minor key to the heady pleasure of living in the moment. Among Japanese-speaking audiences, the film's source material, a novella by the late Yasushi Sato, may spark further interest.
There's a languid beauty to the photography by Hidetoshi Shinomiya which brings a sleepy, colour-drenched glow to many of the shots. It's almost as if the magic hour light has been harnessed and and repurposed to gild the first stolen moments of the relationship between the narrator and Sachiko, a covert clinch, hidden under a table in the book shop where they both work.
It's a relationship which nearly didn't happen. The unnamed central character, labeled in the closing titles as "Me", has bunked off work for the day but swings by the bookshop in time for his long-suffering boss to give him yet another chance. Sachiko signals her interest and they make a plan to meet later at a bar. But he dozes off and instead goes on an all-night binge with Shizuo which culminates in a stolen floral arrangement and the mother of all hangovers. The following day at work, a disgruntled Sachiko forgives him. But their nascent relationship is tipped off balance when Sachiko and Shizuo meet, and hit it off immediately.
While the two male characters, particularly "Me", are laid back almost to the point of inertia, Shizuka Ishibashi's performance as Sachiko is rather more magnetic. It is she, we realise, who makes all of them, and those nights spent rattling around Hakodate, more interesting.
The thing about capturing directionless lives and endlessly deferred decisions is that it can all seem a little underpowered. And there is a point in the film when it seems that Miyake is more interested in the performance of DJ Hi'Spec (who also crafted the film's languid score) at a club than he is in the dynamic between the friends. Still this is a film which rewards with the cumulative power of small, glimpsed moments which, only towards the end of the film, build into something remotely dramatic. It's not exactly a crescendo of action, but there's a real poignancy to the sense that finally, the endless, carefree summer might be drawing to a close.
Production companies: Cinema Iris, Pigdom
International Sales: SDP so@stardustpictures.co.jp
Producers: Kazuhiro Sugawara, Hiroshi Matsui
Screenplay: Miyake Sho, based on a novel by Yasushi Satô
Editing: Miyake Sho
Cinematography: Hidetoshi Shinomiya
Music: Hi'Spec
Cast: Tasuku Emoto, Shizuka Ishibashi, Shota Sometani, Masato Hagiwara, Makiko Watanabe, Tomomitsu Adachi, Ai Yamamoto, Takaya Shibata, OMSB, Hi'Spec