Vivian Qu's tale of abuse and corruption in China's 'gold coast' marks her out as a force to be reckoned with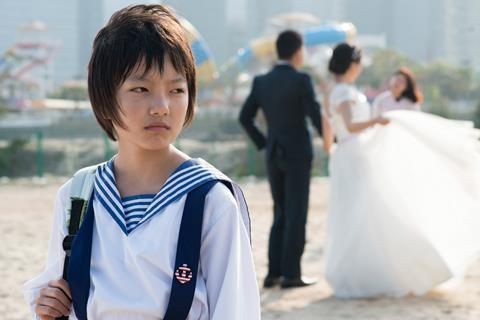 Dir/scr: Vivian Qu. China, 2017, 107 mins.
For her second feature as director, Vivian Qu sets her script in Hainan island, "China's gold coast", where the giant 'Forever Marilyn' sculpture watches over the residents of the Warmness Hotel as they go about their business. Events which take place here one night will have far-reaching consequences in Qu's shocking story of complicity and corruption, a Chinatown set in China. The director of Trap Street and producer of Berlinale-winning Black Coal, Thin Ice pulls no punches in her tentacled piece, and it leaves a livid mark.
This is a pitiless world in which to be weak
Strong reviews should lead Angels Wear White into further festival play after its Venice launch, where it could well win awards, and a wide arthouse reach. It's an excoriating story told with gentle sympathy; a lashing tale about the abuse and marginalisation of women at the hands of a dark establishment in a sun-filled resort. Everybody is on the make here, and the chain of corruption crushes down on its weakest links. Sold internationally by Wild Bunch, Angels Wear White had not passed censorship in China prior to its Venice Competition berth, yet it's a companion piece to A Touch of Sin, Jia Zhangke's similar howl of protest, which did pass.
Whatever its domestic fate, Angels is a skilful combination of tense, dark drama with biting social commentary. Nothing here is entirely predictable once the motel's paper-less cleaner and general dogsbody Mia (Wen Qi) agrees to swop shifts and man the reception desk one fateful evening. (China operates a system of licensing its population to live outside their places of birth.) It's an almost a wordless, extended sequence: we've seen Mia on the beach in her drab clothes worshipping at the feet of Marilyn, so when she appears behind the restort's counter in a fancy hot pink jacket, it all feels immediately out of place.
Soon, an older man arrives with two pre-pubescent girls in school uniforms, one wearing a blonde wig. He books two rooms; they order beer. Mia sees the man try to enter the girls' room on the surveillance camera and uses her phone to record his actions. It quickly turns out he's the local police commissioner, the godfather of one of the girls (Wen, played affectingly by newcomer Zhou Meijun), and "an animal", according to her mother.
Late for school and with bruises on their legs, the girls arouse suspicion and the police investigate. Wen's mother is a resentful, angry, jealous cabaret dancer, and her father only visits once a year. Back at the hotel, the videotape is suddenly erased, the logbook is altered, and Mia comes under huge pressure to stick to the official story. Without her papers, she's suddenly extremely vulnerable, but Mia is a gutsy kid who didn't get as far as the Gold Coast without being resourceful. This time, however, she may go too far.
Throughout, the law, as represented by attorney Hao (Shi Ke), doggedly investigates the case in what we suspect may be a futile attempt to bring justice to this situation. And what is justice, in a world so twisted that the guardians are the predators: Qu constantly trains her camera on the police station, where a sign claims: "Serve The People". But this is a pitiless world in which to be weak.
What distinguishes Angels Wear White is that it is, on the one hand, suspenseful and horribly gripping, while on the other, it's an artistically executed film, with a hand that always serves the story. Qu keeps music away from the action for the first 45 minutes while the roots of the story take hold, for example, layering the plot and drawing the viewer in. While the principals play out their tale, a menacing gang led by baby-faced Jiang circles the action, ready to snap up the weakened detritus of the film's bigger sharks. They're almost never seen in daylight, yet Qu softens the piece by opting for dusky hues, making the viewer always aware that this story is taking place by the sea, on the edge of things. Anyone could fall off.
The giant Marilyn, meanwhile, was the subject of news stories when it was found abandoned in a dump in China. In a seaside resort caught between two worlds - where you need a special ID card to enter - Qu's closing sequence turns out to be a superb statement of her intent. It's a bravura flourish from a director who has, with this film, forcefully cemented her presence on the world stage while giving her people a voice.
Production company: 22 Hours Films Production
International sales: Wild Bunch
Executive producers: Ying Hua, Yue Lin, Cao Guoxiang, Zhou Ling
Producers: Sean Chen, Alain de la Mata
Cinematography: Benoit Dervaux
Production design: Peng Shaoying
Editor: Yang Hongyu
Music: Wen Zi
Main cast: Wen Qi, Zhou Meijun, Shi Ke, Geng Le, Liu Weiwei