Louise Wong plays Cantopop superstar Anita Mui in this nostalgic biopic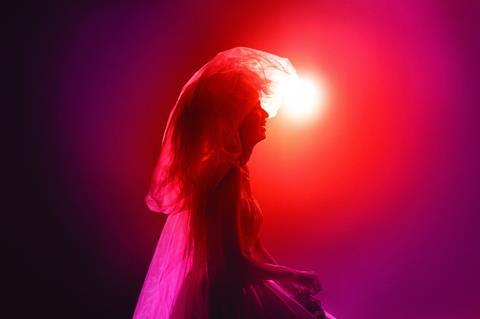 Dir: Longman Leung. Hong Kong. 2021. 136 mins.
Singer, actor and tabloid-magnet Anita Mui was one of a kind. A Canto pop 'idol' when that genre was at its height, an award-winning actress (Stanley Kwan's Rouge) and activist, and an outspoken, flavourful character who carried a scent of the Hong Kong underworld to her record-breaking Coliseum concerts, 'Ah Mui' died at the age of 40 from cervical cancer. Beloved and emblematic of her homeland, she is played in this nostalgic biopic by model-turned-actress Louise Wong as a wistful soul who spent her life looking for love. That may well be the case, but even the clips shown here belie Wong's pallid portrayal. Anita Mui exuded energy from every pore, a combination of brazen insouciance and naked vulnerability. Longman Leung's biopic is a rather more tentative rendition of a fearless person.
As played by Wong, she looks like she's on a magazine shoot rather than a soul-searching exercise
Yet Anita arrives at a special, difficult time for Hong Kong — when the recent past of the 1980s and 1990s in which a singer might speak out without fear seems like a gilded age that has gone for good. And her anthems, such as 'Song Of The Sunset,' are messages from an era when pop 'idols' urged audiences to "treasure what we have and fight for what we don't." Although it never really gets to grips with her — and backs off at a critical juncture — Anita should ride a wave of nostalgia to box-office success in the territory and everywhere else in Southeast Asia and the diaspora that she is remembered fondly. And that's a lot of places.
Anita Mui Yim-fong, nicknamed Ah Mui, or Big Sister Mui, had a unique upbringing, even in a territory which produced Jackie Chan and Sammo Hung from child martial-arts schools. Supporting her family from the age of four, she sang in late-night bars and on the streets and in the Lai Chi Kok Amusement Park until she left school at Grade 8. She did, though, memorise songs in other languages — Mandarin, English, even a smattering of Japanese. Winning the TVB inaugural 'New Talent' singing awards in 1982 broke her out into the mainstream, where she would become one of the most successful Cantopop acts ever, releasing over thirty albums and dominating Hong Kong popular culture right up until her death in 2003.
Over a leisurely 136 minutes, director Longman Leung and writer Jack Ng follow several threads in her life. The first is her close relationship with her sister Ann (Fish Liew), also a singer; the second her friendships with Eddie Lau (Louis Koo), her stylist and mentor, and the doomed Leslie Cheung (Terrance Lau); the third is 'little pearl's' lifelong loneliness and search for love, which is thwarted when her relationship with Japanese pop idol 'Godo Yuki' (a sub for Masahiko Kondo, played by Nakgima Ayamu) unravels under the pressures of showbiz.
It's an odd juxtaposition, this drifty portrayal of a lonely lady who likes to stare at the sunset versus the real-life woman whose life came apart after a face-slapping incident in a karaoke bar provoked a triad fight, which ultimately resulted in a man being gunned down in a hotel foyer in Macao in broad daylight. Anita Mui had an unusually deep voice, a really striking look, and liked to dress up like a wedding cake. Here, she's seen weeping in Thailand after the slap: as played by Wong, she looks like she's on a magazine shoot rather than a soul-searching exercise. Mui says that it's not the first time she's had her face slapped in a nightclub, yet Wong looks like she's never actually been inside the places Anita liked to frequent.
Likewise, although the focus is heavily on her sister Ann, who predeceased her from the same illness by three years, there's little said about Mui's mother or other siblings, all of whom became legally involved in her estate.
This film marks a dramatic change of page for Longman Leung, after Helios, Cold War and Cold War II (co-directed by Sunny Luk). It's very reverent, very elegiac in its tone, and there's a definite sense of loss — of Anita Mui, certainly, but also the soul of Hong Kong. References to her support after the Taiwan earthquake or fundraising for SARS speak to audiences which no longer enjoy that same freedom of speech. Between that, and the the fates of the Mui sisters and Leslie Cheung, Anita can't but provoke a sadness and nostalgia for better days.
Production companies: Edko Films, Irresistible Films, Hua Xia Films, One Cool Film, CCC Media
International sales: Edko Films, yeungesther@edkofilm.com.hk
Producers: Bill Kong, Ivy Ho, Tang Wai-but
Screenplay: Jack Ng
Cinematography: Anthony Pun
Editing: David Richardson, Ron Chan, Cheung Ka-fai. Yan Ting-ting.
Production design: Pater Wong
Music: Kubert Lerung
Main cast: Louise Wong, Louis Koo, Lam Ka-tung, Miriam Yeung, Nakgima Ayamu, Fish Liew, Terrance Lau