Ciaran Creagh's true-life period drama focuses on a pregnant teenager in a small Irish town in 1984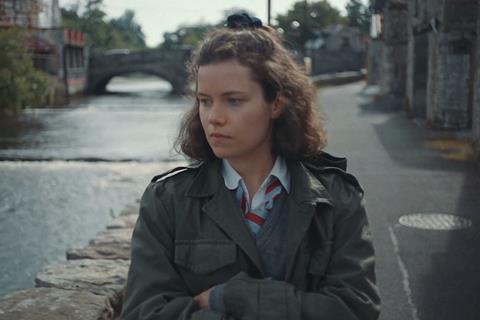 Dir/scr: Ciaran Creagh. Ireland. 2022. 101 mins.
Rumours are "the worst kind of caring", a priest notes early in this unflinching teenage pregnancy drama. As Ann progresses, writer/director Ciaran Creagh suggests there is something worse than that dominating this small Irish town – denial. But while everyone else in Granard, Co Longford, may be able to turn a blind eye to the growing belly of 15-year-old Ann Lovett, she is all too aware the baby is coming soon.
Creagh refuses to let us look away from the tragedy that unfolds
Tragically inspired by a true story, the film's universal subject matter has already given it a strong run at festivals, including Tallinn's Black Nights and Cairo, and it will have a limited release in Irish cinemas from April 28 after its Irish premiere at Dublin Film Festival. The resonance of the true story is likely to help the film find a local audience and, given the continued global debate around pregnancy and abortion, additional festival play also seems likely.
Creagh showed with In View, his 2016 character study of a woman with depression, that he is quite prepared to put his audience through the mill. He doesn't pull any punches this time either, as he asks us to follow Ann (Zara Devlin) over the course of a single fateful day in January, 1984. Cinematographer David Grennan does this quite literally a lot of the time, trailing behind her as she leaves a note for her family, takes a pair of scissors and a page from a biology textbook about female anatomy, and skips school.
Although it's 1984, Granard has the feel of a town that hasn't quite managed to drag itself out of the 70s – it's a place where everyone seems to know everyone else's business and yet, paradoxically, much remains unspoken. Creagh immerses us in the town's geography: as the action passes from person to person, we often walk with them on long takes. We quickly learn just how far it is from the high street pub where Ann lives with her parents Patricia (Eileen Walsh) and Diarmuid (Ian Beattie) and sister Patricia (Senna O'Hara) to the local church and on to the nearby religious grotto, with its statue of the Virgin Mary. This awareness of the distances involved is increasingly crucial later in the film when time becomes of the essence, and the fact that we know how far a place is makes the travel to it even more agonising.
Creagh also emphasises the cold. It's not just referenced in dialogue and the way that Ann's mum clutches her coat about her, but makes its presence felt in the damp pebble-dashed walls of buildings we see Ann move between. A wintry, melancholic score from Roger Taylor further adds to the chill.
There's little warmth between the characters either, with dialogue more perfunctory than chatty. Opportunities to open up, even between mum and daughters, are few and far between. As events unfold, Creagh brings home the brutality of this bottled-up attitude even as he refuses to let us look away from the tragedy that unfolds. Some of the supporting performances are uneven, which does detract from one or two crucial moments, but the central cast members deliver. Devlin has very little dialogue but conveys Ann's sense of fear and isolation through body language. Walsh and Beattie also create an atmosphere of discomfort between a man and wife who, though going through the motions of interacting, have long since lost the ability to truly communicate with one another.
Once the action leaves the streets of Granard it loses some of its concentrated power, with Creagh's depiction of the end of the day less sure-footed than the start. Still, he refuses to let us or the townsfolk off the hook, leaving questions of why to hang in the air like breath on an ice-cold morning.
Production companies: Hill Sixteen Features
International sales: Media Luna, info@medialuna.biz
Producers: Ferdia Doherty, Ciaran Creagh, Niall Flynn
Screenplay: Ciaran Creagh
Cinematography: Dave Grennan
Production design: Gerard Wallace
Editing: Tony Cranstoun
Music: Roger Taylor
Main cast: Zara Devlin, Ian Beattie, Eileen Walsh, Senna O'Hara, Frank O'Sullivan, Philip Judge