Animation/live-action hybrid look at Angola's 1975 fight for independence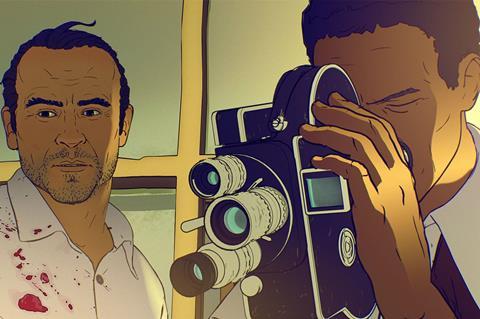 Dirs Raúl de la Fuente, Damian Nenow. Pol-Sp-Ger-Bel-Hun. 2018. 80 mins
The late Ryszard Kapuscinski's memoir of his role in Angola's 1975 fight for independence is brought to the screen as an unusual docudrama hybrid matching live-action and animation. The mixture is disconcerting at first, but gradually allows his front line testimony to emerge in a way that matches documentary authenticity with dramatic intensity.
It is when the film steps back into live-action that it starts to command your attention
The possibility of an "Under Fire meets Waltzing With Bashir" pitch should attract festival offers and audiences seeking fresh perspectives on living memory historical events.
The film provides a compact introduction to the events in 1975 leading to the date set for Angola's independence on November 11th. The end of Portuguese colonial rule held out the possibility for lasting change whilst the country's rich natural resources made it an inevitable prize for outside forces. As Vietnam ends, the Cold War moves on and both Soviet Russia and America pick their sides in what would become a civil war between competing liberation movements MPLA and UNITA. For ace Polish reporter Ryszard Kapuscinski it was the one place he had to be.
When Another Day Of Life slips into animation it immediately jars. Kapuscinski is depicted as the kind of reckless, square-jawed foreign reporter you might expect to find in a Sam Fuller B-movie, spouting platitudes, challenging authority and complete with suitably macho stubble. He feels a bit of a cliche. The slightly florid, simplistic screenplay and a bland vocal cast working in English only add to the unease.
Talk of a rebel hero in the south of the country sends Kapuscinski on a mission to interview the elusive General Farrusco. Could he be the Che Guevara of Angola? He is initially accompanied by fellow journalist Artur. Their animated journey has an immediacy and energy as bullets ricochet around them, charismatic guerrilla fighter Carlota intervenes to save them and roads are filled with the fly-strewn corpses of countless casualties.
It is when the film steps back into live-action and the real Arturo reflects back on those events that it starts to command your attention. Throughout, there are heartfelt memories from the survivors of the era, including Farrusco, and wews reports and black and white photographs give more of a sense of reality.
As South Africa invades from the south and Cuba commits itself to the fight, what had seemed a national struggle became part of a wider international conflict. When he obtains information that could change the course of history, a conscience-stricken Kapuscinski has to decide whether to honour his journalistic instinct for a good story or act for what he saw as the greater good of the country. Can he file copy when what he really wants is to take sides?
The human testimony is undoubtedly the most engaging aspect of Another Day Of Life, but the animated sequences earn their place when they provide a sense of the emotional turmoil that Kapuscinski experienced as he faced the chaos and horrors of a war that would continue until 2002.
Production companies Platige Films, Kanaki Films
International sales Indie Sales mgondre@indiesales.eu
Producers Jarosław Sawko, Amaia Remirez
Screenplay Raúl de la Fuente, Amaia Remirez, Niall Johnson, David Weber, Damian Nenow based on the book by Ryszard Kapuscinski
Production design Rafal Wojtunik
Editing Raul de la Fuente
Cinematography Gorka Gómez-Andreu, Raul de la Fuente
Music Mikel Salas
Voice cast Kerry Shale, Youssef Kerkour, Daniel Flynn